On December 7th 1972, NASA's Apollo 17 crew took photograph AS17-148-22727. Better known as the Blue Marble.
The photograph, taken at a distance of 18,000 miles, was the first of the Earth where both the south polar ice cap and African coastline are visible. The image is considered by some to be the catalyst for the environmental movement of the 70s.
Seeing the Earth as a whole, comprehending it, and perceiving its fragility, was a game changer for the future of the planet.
When demand for natural resources exceeds what the planet can renew
Today marks Earth Overshoot Day; the date where we have already consumed the ecological resources and services that the Earth can regenerate in the year. We have hit this date a day earlier than last year, and a whole week earlier than the 2016 date. In other words, our demand for this year requires 1.7 "Blue Marbles" to sustain us.
The quote "we do not inherit the earth from our ancestors; we borrow it from our children", has never felt more literal.
Josh Hendry, in our North America team, wrote in his blog on the UN Sustainable Development Goals, "it is often hard to connect your day to day work with how it impacts the world."  After all, when confronted with issues of resource scarcity and climate change, many still find these issues either distant and impersonal, or overwhelming. That goes for individuals, organisations and governments. Yet having conversations about these challenging issues is vital if we are to return our consumption to within the limits of the Earth's annual regeneration capacity.
We spent the day with Michael Jacobs, an experienced mediator, talking about having difficult, yet vital, conversations. To support the #movethedate initiative, we've summarized the key takeaways from our training day and how they might be used to push back our overuse of the Earth's resources.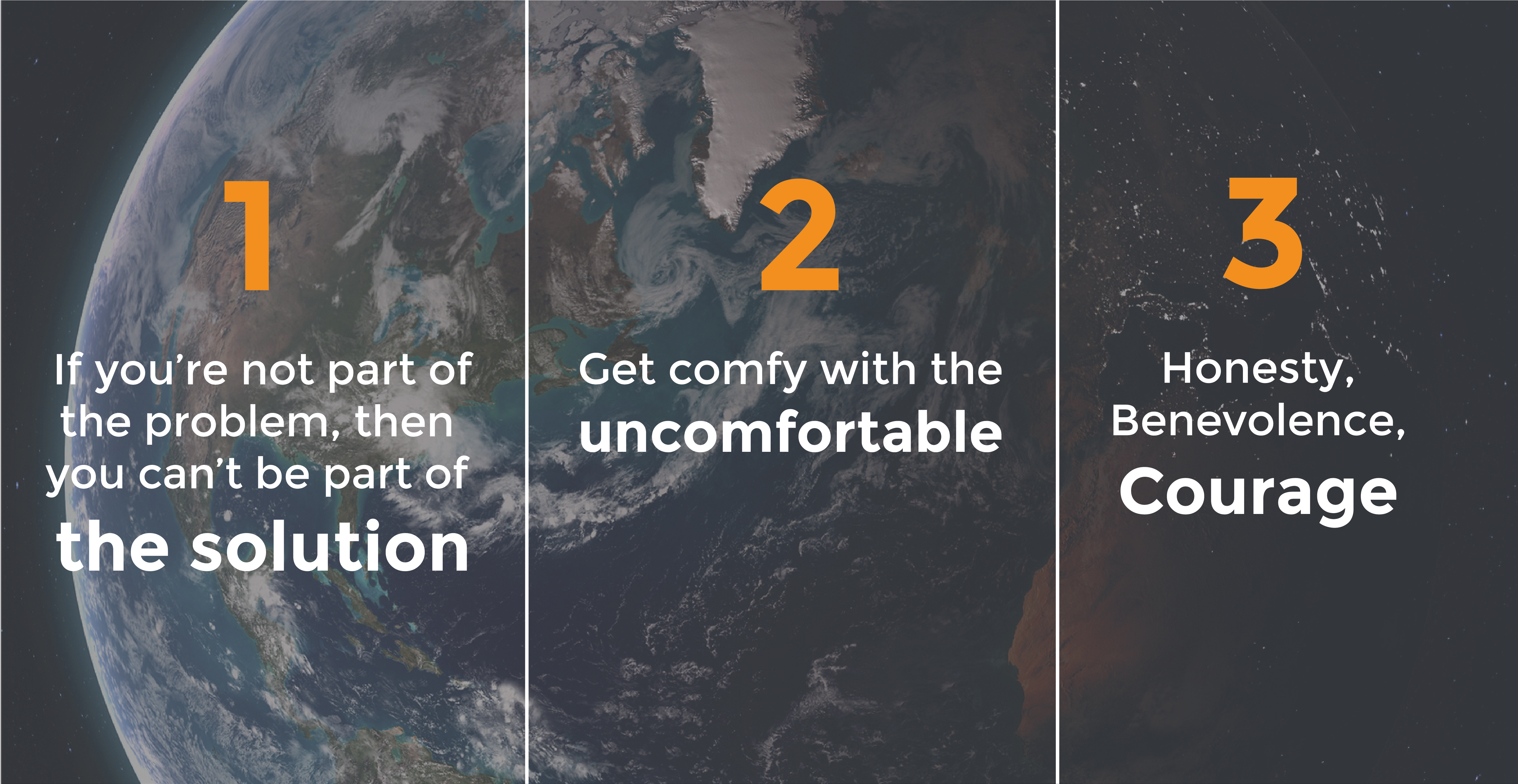 "If you're not part of the problem, then you can't be part of the solution"
One of the first steps for any difficult conversation is acknowledging our own contribution to the difficulty we find ourselves in. Only by taking ownership of our part of a problem can we actually be accountable to do something about it. Being willing to acknowledge our contribution also makes it easier for others to acknowledge their share. The principle here is to extend a conversational invitation that doesn't seek to blame, control or manipulate. The best conversations are always collaborative endeavours.
A great example of this is the Game Console Voluntary Agreement founded by Sony, Microsoft and Nintendo in 2015. The competitive gaming giants came together to reduce the environmental impact of game consoles over their life-cycle and to achieve energy savings through better design. By putting their hands up and acknowledging that they are part of the problem, these manufacturers been able to make environmental commitments that cover the majority of the multi-billion dollar market.
We are also seeing similar collaborations between would-be competitors to help come up with solutions to the single-use plastic problem in a several different sectors.
Get comfy with uncomfortable
As human beings, we often want to predict, control and have the answers.  Our brains love certainty. The problem is that these preferences can lend themselves to habitual responses and relying on our existing knowledge and skills. As a result we may miss other options and solutions, or worse, panic.  We have to remain self-aware, adaptive, and resilient to allow ourselves to operate well in a space that is uncertain.
To illustrate the point, if we moved Earth Overshoot Day back 5 days a year from now until 2050, we would return back to within the planet's limits. However, looking forward from today to 2050 is the same as looking back from today to 1984. A sobering thought given that in 1984 we would not have predicted the technological, political, or environmental landscapes of 2017. The capacity to respond effectively to new risks and new opportunities will be the most powerful in the changing fortunes of time.
A great example of this long-term thinking is the Product Sustainability Round Table (PSRT), which Anthesis members have organised for almost 25 years. The PSRT brings together sustainability experts from many of the world's leading organisations to collaborate and learn from each other in a non-competitive environment.
The members collaborate to deepen their understanding of issues and trends, share collective experiences and expertise, and strengthen capacity for addressing sustainability challenges. At our most recent European meeting in London, day 1 of the 2 day event was devoted to the future of plastic and sustainable packaging. 
Take a look at the topics covered at last year's event in New Jersey to get a feel for the network, or the free-to-download Leadership Framework which recently launched to help organisations to accelerate and scale sustainability efforts.
Strengthen your dialogue with honesty, benevolence and courage
The three central capacities that support the practice of dialogue: honesty, benevolence, and courage. At the heart of every real conversation are people willing to 'show-up' – in all their messy complexity.
There are also alternatives: disguised agendas, exaggerated optimism or pessimism, providing a partial picture of reality, feigning interest in others, deny or avoid difficult truths. These are control mechanisms, rather than conversational invitations.
At Anthesis we recently published our second UNGC Communication on Progress. Arguably, a list of our own pledges to support #movethedate.  Being honest, benevolent and courageous in our commitment to the 10 UNGC principles – covering human rights, labor, environment and anti-corruption – is essential to our continued improvement as an organisation.
Honesty – giving an accurate account of what is true for us – we believe being transparent about our journey and sharing our progress as a business matters.
Benevolence – the desire to do good with and for others – one of our largest impacts on others is through influence. We are privileged to have a raft of leading experts in their field. Sharing our knowledge, experiences and insights supports our desire to positively influence on our clients and beyond through our work and thought leadership.
Courage – strength in the face of change – we are always looking at how we can allow our employees to thrive, and how we can create a culture that allows for agility, creativity, and resilience. Courage is central to all of this, and vital for our employees that constantly sit on the edge of change and innovation.
Our day with Michael Jacobs on Essential Conversations is part of the wider Anthesis employee training and development program which also includes Mindfulness, Storytelling, Coaching, Mental Health Awareness, and Relational Intelligence, to name a few. Michael Jacobs has been a practicing mediator for nearly twenty-five years, you can contact him by emailing michael@kenosis.org.uk
*Blog originally posted on 2nd August 2017