"This announcement is a huge win for consumer transparency and we're thrilled that Target is taking this step. It's a forward-thinking policy like this that will drive industry change, ensuring that the health of our planet and its people are never compromised for profit."
Target has long been a leader in supply chain transparency, products sustainability and responsible chemistry aiming to "sell products with a positive impact on the lives of our guests and communities and to ensure worker and guest safety throughout our value chain and operations"
In partnership with Anthesis, Target has developed and released a comprehensive chemical strategy that includes not only the products on store shelves but goes beyond to address the entire value chain and operations. Anthesis took a holistic approach to policy development; integrating market and regulatory intelligence with insights gleaned from a real-world implementation of a full-material-disclosure experience completed for a portion of Target's supply base.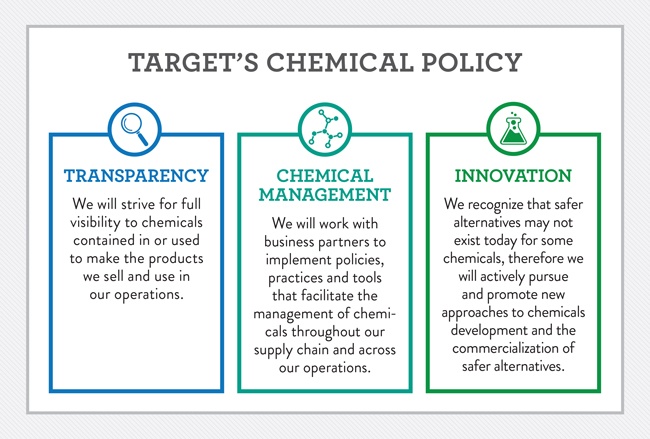 Market response
"This announcement is a huge win for consumer transparency and we're thrilled that Target is taking this step. It's a forward-thinking policy like this that will drive industry change, ensuring that the health of our planet and its people are never compromised for profit." – Seventh Generation CEO John Replogle.
"By working with suppliers to remove toxic chemicals like phthalates, perfluorinated chemicals and flame retardants from products, Target will bring safer products into the shopping carts of millions of consumers. A growing body of scientific evidence has linked even low levels of exposure to these chemicals to chronic diseases on the rise." –  Mike Schade, Mind the Store Campaign director.
"Our chemical strategy will be one of the most comprehensive in the U.S. retail industry, including all Target-owned and national brand products and operations, not just formulated products." – Former Chief Sustainability Officer, Target.
*Update, 4/2/2018: Target has now published a chemical management page on their website with a mention of Anthesis as a valued partner.
Contact us
We'd love to hear from you
Anthesis has offices in the U.S., Canada, UK, France, the Netherlands, Belgium, South Africa, Ireland, Italy, Germany, Sweden, Spain, Portugal, Andorra, Finland, Colombia, Brazil, China, Australia, Switzerland, Singapore, the Philippines and the Middle East.