Technical Director Susan Harris looks at the scale of opportunity present in the Built Environment sector. She discusses how the solutions for circularity require taking an holistic view that goes beyond the Built Environment sphere to form part of a bigger, interconnected system.
The importance of the built environment sector for achieving circular economy cannot be underestimated. It is the sector with the largest materials flows in the global economy1 and the assets it produces are larger and longer-lived that other 'products'. The forms and constructs of buildings, infrastructure, districts and cities have the capacity to shape how we achieve circularity in every other part of the economy.
Consequently, the importance of embracing circular economy is widely recognized within the built environment sector. However, the ways in which we can address it are much debated, and the concept has so far been slow to reach mainstream.
The Ellen MacArthur Foundation's 2015 report "The Growth Within" was something of a tipping point in the sector, putting forward a vision of what a circular European economy could look like and how the economic and environmental impacts could play out in the built environment supply chain2. The report sets out the key sources of structural waste in the built environment sector (fig. 1) and also the key barriers to implementation (fig. 2).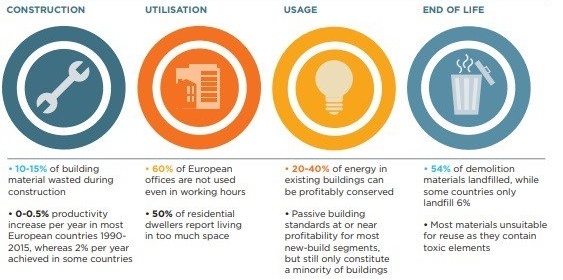 Figure 1. Waste in the built environment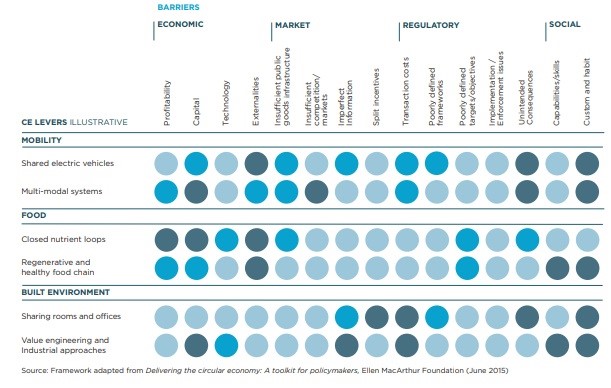 Figure 2. Barriers to implementing circular economy
The waste and barriers identified surprised very few in the sector, highlighting deeply entrenched norms within the built environment that affect progress on many issues and have been identified as far back as in the Eagan report "Rethinking Construction"³ twenty years ago.
What is the Solution to Embedding Circular Economy in the Built Environment?
Whilst there are no silver bullets, a significant part of the solution can come from taking an holistic view that goes beyond the sphere itself to consider built environment as a part of a bigger, interconnected system. Not only does this help us to see the "end game" – the ultimate purpose for the built assets we create as part of a broader circular economy – but it also opens up new ways of thinking about circular economy and what "going circular" really means.
There are many excellent examples of companies improving efficiency, and reducing supply chain vulnerability and costs through circular practices:
The M25 DBFO's re-use of aggregate on-site, which not only reduced embodied carbon by 44,000t but also significantly reduced transport impacts4.
The developer Hammerson's ambitious "Net Positive" target which seeks to make a positive contribution in terms of resource use by 20305.
The EU-funded Buildings as Materials Banks (BAMB) project, which looks to create "buildings passports" in combination with flexible building design so the value of the constituent materials is retained6.
But to be truly maximising the potential of circularity a wider view of the buildings we create and occupy is required, where circularity is not a side issue, but is integral to delivering value. For example, looking at how space is used now and in the future, or how buildings can be repurposed in situ rather than demolished and rebuilt. To truly grasp this value, we must understand the buildings as part of a broader system.
Designing For a Circular Economy
By sharing knowledge across sectors, we can learn from the best of what others have done to inform our own progress. For example, the following six principles, set out in Bakker et al (2017) 'The Products That Last', which focus on retail products, apply just as effectively to buildings as to products, and perhaps even bring a renewed clarity of focus.
1. Design for product attachment and trust:
Creating products that will be loved, liked, or trusted longer. This principle is not unrelated to creating buildings that have the "user experience" in mind.
2. Design for product durability:
Developing products that can take wear and tear without breaking down. Designing for the appropriate building lifecycle is key within our sector.
3. Design for standardization & compatibility:
Creating products with parts or interfaces that fit other products as well. The principles of modular building fit well here.
4. Design for ease of maintenance and repair:
Enabling products to be maintained in tip-top condition. Given the proportion of cost, environmental impact and effort which sits in the use phase of built assets, ensuring easy repair and maintenance is vital.
5. Design for upgradability & adaptability:
Allowing for future expansion and modification. Buildings which are flexible and can meet current needs but also adapt to future needs as required is something that is receiving increasing attention.
6. Design for dis- and re-assembly:
Ensuring products and parts can be separated and reassembled easily. Designing for deconstruction and re-use of components at end of life is a strong focus of ideas such as BAMB.
Engaging with design teams in an inspiring way early in the process is vital to embedding circular economy. As we know, for all aspects of sustainability, the potential to influence reduces the further along the project progresses along the lifecycle, and the cost and effort required to do so increases (see Figure 3).
At Anthesis, I've been connecting the many different parts of our sustainability team to demonstrate how circularity can help organisations meet carbon and water efficiency goals as well as delivering on resource efficiency.
We suggest running Concept-stage Circular Economy Briefing Sessions with senior decision-makers at project commencement, followed through with Design Stage workshops to engage designers in co-developing the most appropriate ways to embed circular economy in the project.
Figure 3. The time to influence circularity of projects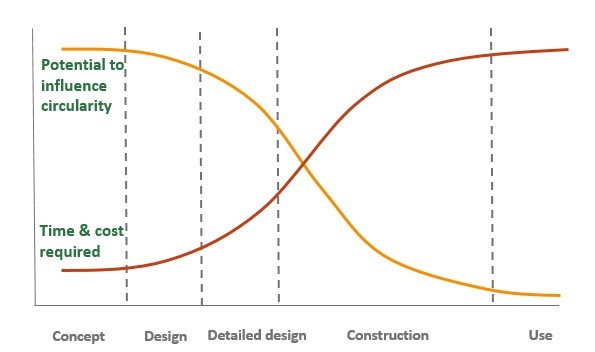 Addressing circular economy questions early on in the process sets the tone for the rest of the project. From a governance perspective, it ensures that the circular economy considerations are apt and appropriate for the business. This provides reassurance and top-level engagement. An integrated, commercial approach sends the right signal to the project team and supply chain – circular economy is integral to the success of the project and is not something to be bolted on or engineered out.
If you are interested in looking at how to embed circular economy within your built environment project, please contact Susan Harris using the form below.
References
[1] Bringezu, 2015." Possible Target Corridor for Sustainable Use of Global Material Resources" http://www.mdpi.com/2079-9276/4/1/25/html
[2] https://www.ellenmacarthurfoundation.org/assets/downloads/publications/EllenMacArthurFoundation_Growth-Within_July15.pdf
[3] http://constructingexcellence.org.uk/wp-content/uploads/2014/10/rethinking_construction_report.pdf
[4] http://www.wrap.org.uk/sites/files/wrap/M25%20connect.pdf
[5] http://sustainability.hammerson.com/347/our-net-positive-objective.html
[6] http://www.bamb2020.eu/
Contact us
We'd love to hear from you
Anthesis has offices in the U.S., Canada, UK, France, the Netherlands, Belgium, South Africa, Ireland, Italy, Germany, Sweden, Spain, Portugal, Andorra, Finland, Colombia, Brazil, China, Australia, Switzerland, Singapore, the Philippines and the Middle East.