2017 saw the first round of energy efficiency funding for academies and multi-academy trusts. The Salix Energy Efficiency Fund (SEEF) was developed in partnership with the Education and Skills Funding Agency (ESFA), to fund energy efficiency projects for academies (including multi-academy trusts) and sixth form colleges. With an anticipated second round of funding due to be announced in early 2018, what lessons can be drawn from our experiences during the first year of this funding stream?
It's important to note that demand for funding far outstripped supply with Salix confirming that the fund was four times over-subscribed. We directly applied on behalf of eight academies, supplying quotes for 15 measures through third parties. We achieved 100% technical compliance on these applications, with 62.5% resulting in successful applications compared to the 25% national average. We've since delivered 15 energy conservation measures across the seven successful academies including LED lighting and controls, fabric and technical insulation measures. The remaining 37.5% of applications we submitted were awarded 2nd tier status and are being prioritised to receive funding in the second round.
Top tips for new Salix Energy Efficiency Fund (SEEF) applications
Time
The nature of the Salix finance process means time is of the essence in applying for and delivering the projects (both elements needs to be completed within 12 months), but the loan is with you for the long term (up to 8 years). How you use the three months shaping the project and nine months delivering it have long term consequences that need to be carefully considered to avoid inheriting longer term risk, to manage this the devil is in the….
Detail
If a consultant or installer isn't presenting you with a breakdown to the zonal or component level, they're failing to give you all the facts and hampering your chances of a successful outcome in favour of maximising the project sum. We'd love to deliver all energy efficiency measures we identify but unfortunately this fund is finite and you have to be selective in what you put forward to maximise the chances of receiving the loan.
Procurement
Salix determine the success and failure of your application based on value for money (£ per lifetime tonnes of carbon) relative to other projects. If it's a large investment it pays to carry out a thorough design exercise up front, you'll be under pressure once funding is confirmed so investing in good design early on in the process will improve your chances of a successful application, provide transparency in procurement and ultimately help your chances of a successful project.
Personnel
Finance, business managers and site staff will be heavily involved in the delivery of projects through Salix, but there are plenty of wider stakeholders to also consider. Involve key stakeholders and representatives early.
Know your objectives
Whilst Salix scores applications on energy saving benefits alone, there are many more benefits to improving the energy efficiency of your building(s) which should not be overlooked. It's important to understand and quantify additional benefits for example; lighting (reduced maintenance costs, benefits to learning environments etc.), or insulation (comfort, future replacement costs) and consider any special requirements which you may have.
The process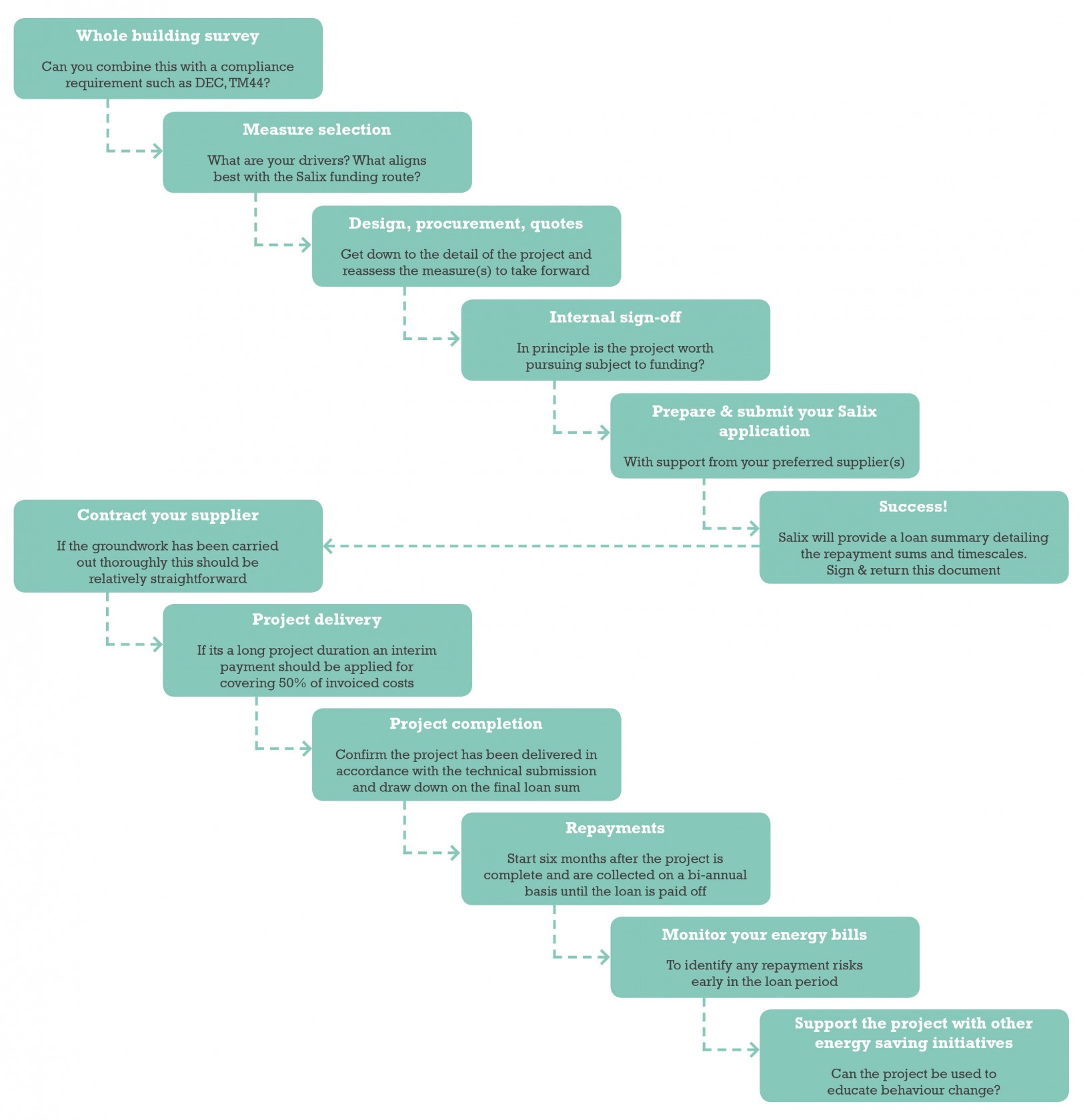 Further support
We have over 10 years of experience in arranging funding in the public and private sector, including numerous packages through Salix. We can undertake viability assessments, create a solid business case with detailed payback periods, and apply for the funding on your behalf, as well as managing the installation of the energy efficiency measures. Working on energy efficiency in schools for over 15 years; our expert engineers and energy auditors know exactly where to focus to ensure you achieve maximum benefit from our recommendations.