Hannah Dick, Principal Consultant at Anthesis, has been announced as one of the winners of the 35 Under 35 awards programme.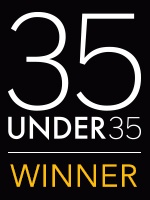 35 Under 35 is an awards programme, organised by letsrecycle.com, which identifies the 'young guns' in the sector who are striving for professional excellence, promoting industry innovation and giving back to their company, local authority or community.
As part of the management team for Waste, Resource & Sustainability, Hannah has been responsible for the delivery of a range of projects, providing technical modelling and evidence-based outcomes to support the development of secondary markets and creation of a Circular Economy.
Recent examples include a nationwide review of materials arisings, gate fees and capacity requirements for the near and long term, which will be influential in decision making by national policymakers. Hannah has a strong knowledge of recycling and waste collections, sorting, processing (including infrastructure), as well as offtake markets, supporting Anthesis clients in decision making at the highest level and often being used to guide business critical investments.
Hannah has also made a significant contribution to the development and management of the Anthesis emerging leaders programme over the last 12 months.
Her work has brought her professional acumen to the attention of organisation leaders and her fellow sustainability professionals, leading to her inclusion in the 35 under 35 list.
Speaking of the achievement, Hannah said:
"I am very honoured to be recognised in these awards, particularly at what feels like a pivotal time for the waste and resource sector.  Congratulations to all the winners."
Stuart McLachlan, CEO at Anthesis, said:
"We are pleased to see early career professionals being recognised for the first time through these awards.  At Anthesis, we take the development of our emerging leaders very seriously and we are proud of Hannah for the contributions that she's made to the sector and the development of others."
One of the judges, Lorraine Milburn, Head of HR at Grundon, said:
"It is reassuring to know that the future of our industry has such a wealth of up-and-coming talent which will stand us in good stead during the challenging times ahead. We hope these awards will develop and go on to become a real benchmark for future excellence and something that younger professionals will strive towards during their careers."
The award is another accolade for our WRS team. Earlier this year three colleagues earned their place in the Top 100 waste and resource influencers, a list compiled by Resource Magazine.
You can find the full list of 35 Under 35 winners here.