Now in its 15th year, Recycle Week returns at a pivotal moment with public interest for waste reduction continuing to surge. Andy Marsh, our EHS specialist, explores the challenges and solutions to recycling and raising waste awareness in the workplace.
Remember, 79% of all the plastic waste ever produced is still in the environment and around 12 million tonnes enters our oceans every year. It's not just plastics that cause waste. Roughly one third of all the food produced for humans gets wasted too.
Recycle Week 2018 Theme
This year's theme is: 'Recycling. We do. Because it matters.'
At Anthesis we take recycling seriously, but even in a sustainability business, employees still need informing of where they should dispose of waste materials generated in the workplace. We are currently running a campaign to raise awareness amongst our colleagues on the importance of recycling correctly.
To help with this the Anthesis CSR team are educating all staff on: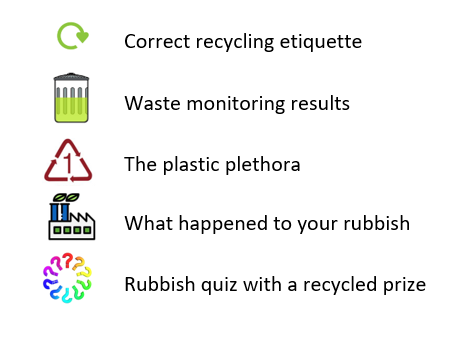 The challenges with recycling
Like many businesses we have spent time and money setting up recycling infrastructure and developing communications to raise awareness to try and get the right waste in the right bins. Each of our offices has a different managing agent and waste contractor that collect different materials, adding to the challenge.
Further complexity is added when at home as staff tend to recycle differently with different materials, bins and communications thrown into the mix. With no sign of a uniform recycling system being established across the UK for domestic and commercial collections, these are just some of the on-going challenges to be worked out in our offices, and also with our clients.
Why is plastic waste so difficult to recycle?
Plastics is one of the main challenges to recycling correctly. Plastics have multiple uses and are an extremely useful product or package, but it can be hard to know what to do with the different types of plastic waste.
A recent BBC analysis of the 2018 WRAP recycling report, shows people are still confused. Some councils collect many different types of plastic packaging, yet three collect no plastic at all.
In total, there are 39 different sets of rules for what can be put in your recycling bins. It's also causing arguments, with 47% of people saying they disagree at home about what should and shouldn't be recycled!
For World Environment Day 2018 the Anthesis CSR Team asked staff around the world to sign up to a pledge to become a 'Single Use Plastic Free Ninja'. Each pledger had a choice of belt and selected a given period for the challenge of 1 week or 1 month:
Red Belt Ninja:

To give up the 'big four' – bags, bottles, disposable coffee cups, straws

Orange Belt Ninja:

The 'big four' plus non-recyclable food packaging, plastic cutlery, plastic cotton buds, microbeads

Black Belt:
We had Ninja's in the USA, Canada, Sweden, Finland, Germany, UAE and the UK. The majority of ninja's took on the pledge for a month and most of those opted for the orange belt. At the end of the pledge period we gathered feedback to find out how they got on.

Some of our insightful findings from the challenge:
The key to being a plastic free ninja is to be prepared at all times. For example, always have a reusable bag & coffee cup readily available.
Main ninja challenges: plastic food packaging is everywhere and it's almost impossible to avoid plastic when travelling and at airports. Added complexity with waste collectors accepting different types of plastics in different regions.
Ninja enlightenment: The pledge was a great opportunity to engage shop staff, it changed some peoples shopping habits forever, there is no simple solution as a lot of alternatives have issues, starting to change our behaviours is the hard part but once you have created the habit you just do it and it no longer feels like it requires effort.
Overall, our Plastic Free Ninja Challenge was a success and a great way of raising plastic and waste awareness amongst our staff. We continue to work with our staff/ninja's and clients to improve waste management collections to ensure they understand the importance of recycling.
To find out more, please contact Andy Marsh or get in touch below.