In February 2018, Anthesis Group's Wolfgang Wick spoke at the renowned Fraunhofer Institute about the implementation of RoHS and REACH in international legislation. The presentation was part of the working group meeting "Design conformity for WEEE, RoHS and EuP", and was attended by environmental compliance experts from the electronics industry. This is a summary of the key discussion points.
Restriction of Hazardous Substance (RoHS) and Registration, Evaluation, Authorisation and restriction of Chemicals (REACH) are EU regulations that have been in place since 2003 and 2007. Despite being EU regulations, country-specific versions of RoHS and REACH are already widespread in Asia, especially Japan and China, and are starting to spread into other countries such as the UAE, Turkey, and lately, Russia. As these 'versions' spread, businesses are faced with greater difficulties in managing compliance.
The challenges around international regulations
Attendees noted the ongoing challenges they faced surrounding RoHS and REACH. Some of their most common grievances included: understanding the intricacies of changing legislation around product compliance in the electronics industry; the differences in standards and legislation at an international level; and how this adds to the complexity of product compliance and maintaining compliance.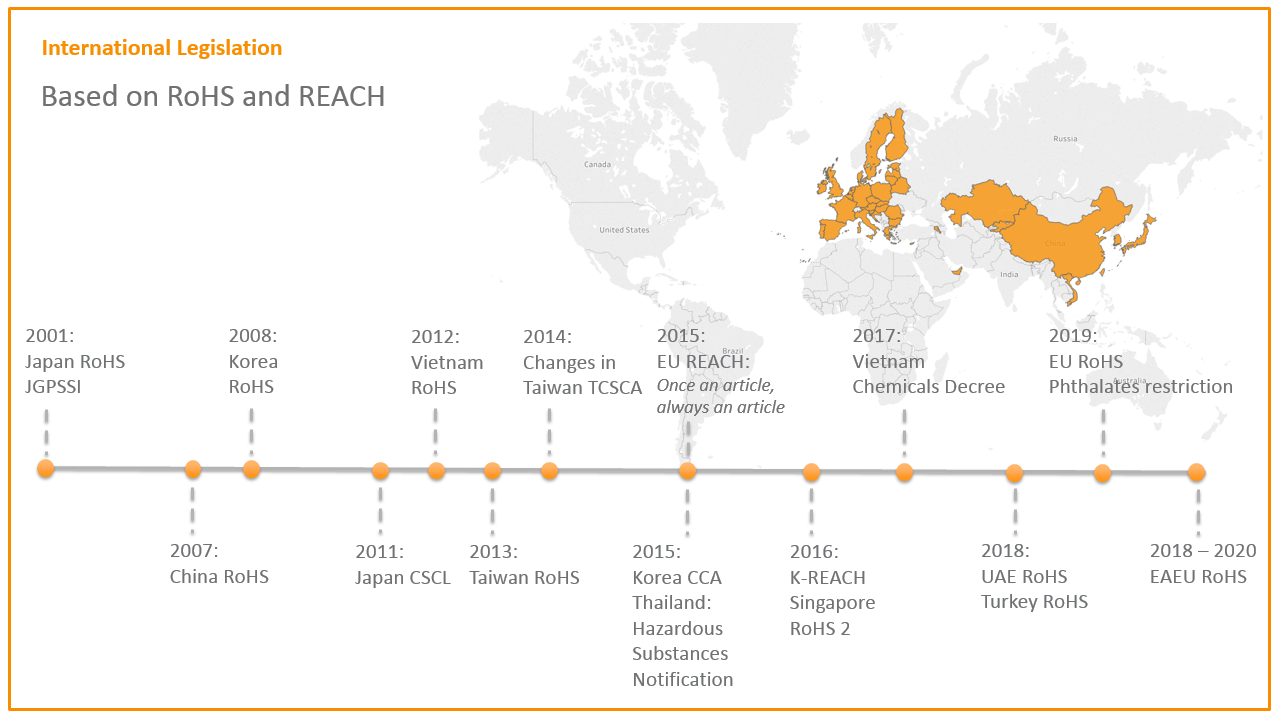 Figure 1: RoHS and REACH timeline and prominent locations
EU V.S. international regulatory differences
It's important to note that almost all international substance-related restrictions are based on the EU's REACH SVHC and RoHS – any new substances are added to international lists with a certain time-lag, e.g. Restriction of Phthalates.
There are, however, differences between the regulations that need to be considered. For example, in regards to REACH, the EU largely focuses on articles. Amongst international regulations, there is more focus on end product usage, particularly products with intensive (skin) contact and / or substance release in the use phase. There are also huge differences in product labelling internationally.
Managing RoHS and REACH
Global deviations of RoHS and REACH make it vital to implement the appropriate controls. Businesses should start by establishing procedures to monitor their legal requirements, and tailor them by the relevant products and distribution countries. They should also delve deeper into other cross-country variations, such as labelling obligations. Tracking within the supply chain and reporting is also gaining in importance.
Companies can begin to manage their requirements at scale by employing business and data management processes and considering a fully outsourced service to obtain and maintain regulatory compliance.
How Anthesis can help
At Anthesis, we take a practical approach in dealing with the growing complexities of product compliance. We offer a free Compliance Data Collection (ACDC) form developed to align with associated guidelines (IPC1752, IEC62474, IPC1752-2) and available in several languages.

We can also design and develop business processes to support the necessary data collection involving the technical areas, software and relevant suppliers. Through our Business Process Outsourcing, clients receive high-quality compliance data fit for the use in their own data systems.