The recently published Professional Statement from RICS on the Whole Life Carbon (WLC) of construction projects follows on from similar guidance published by the GLA1 and RICS five years ago and is based on a 2011 EN 159782 European standard.
Although most of the information contains nothing new, there is a big, game-changing update – WLC assessment is now mandatory.  
As of May 2018, RICS members must now assess WLC of new infrastructure. In fact, as a minimum they are expected to conduct at least two WLC assessments; one at a project's technical design stage, which is mandatory, and another after practical completion, which is recommended best practice.
With more than 100,000 qualified professionals worldwide, and a global reach far beyond this number, the ability of RICS to make a difference in the construction sector, and indeed on global climate aims, through this Professional Statement should not be underestimated. To provide a sense of scale on this, carbon emissions associated with infrastructure represent around half of the UK's carbon footprint3. However, if best practice is taken up, around 4 MtCO2e of embodied carbon and 20 MtCO2e of operational carbon could be saved per year (in 2050), representing a net benefit of up to £1.5 billion per year3.
---

What's the difference between Embodied Carbon vs Whole Life Carbon?

In the building lifecycle embodied carbon is the carbon dioxide equivalent (CO2e) or greenhouse gas emissions associated with the non-operational phase of the project, whereas the whole life carbon of a building is both the embodied carbon and the operational carbon (heating, cooling, providing water etc) associated with the building. 

---
Whilst operational carbon measurement of new buildings has been compulsory for many years under part L of the Building Regulations, by mandating WLC assessment RICS members will now need to also consider the embodied carbon for every build. This won't be new to many RICS members, however, the breadth and scale of embodied carbon assessment in the construction industry is likely to increase substantially following the release of this Professional Statement. As more and more measures are put in place to reduce operational carbon, for example the World Green Building Council's 'net zero target' by 20501, the importance of embodied carbon will only continue to increase along with its contribution to WLC.
Reducing embodied carbon makes good commercial sense
It is clear from the UK Government's Infrastructure Carbon Review that reducing embodied carbon makes good business sense. Through RICS mandating that WLC assessment is integrated into the design process, carbon and cost savings can be maximised. There are many examples of how early stage design interventions can reduce embodied carbon and cost.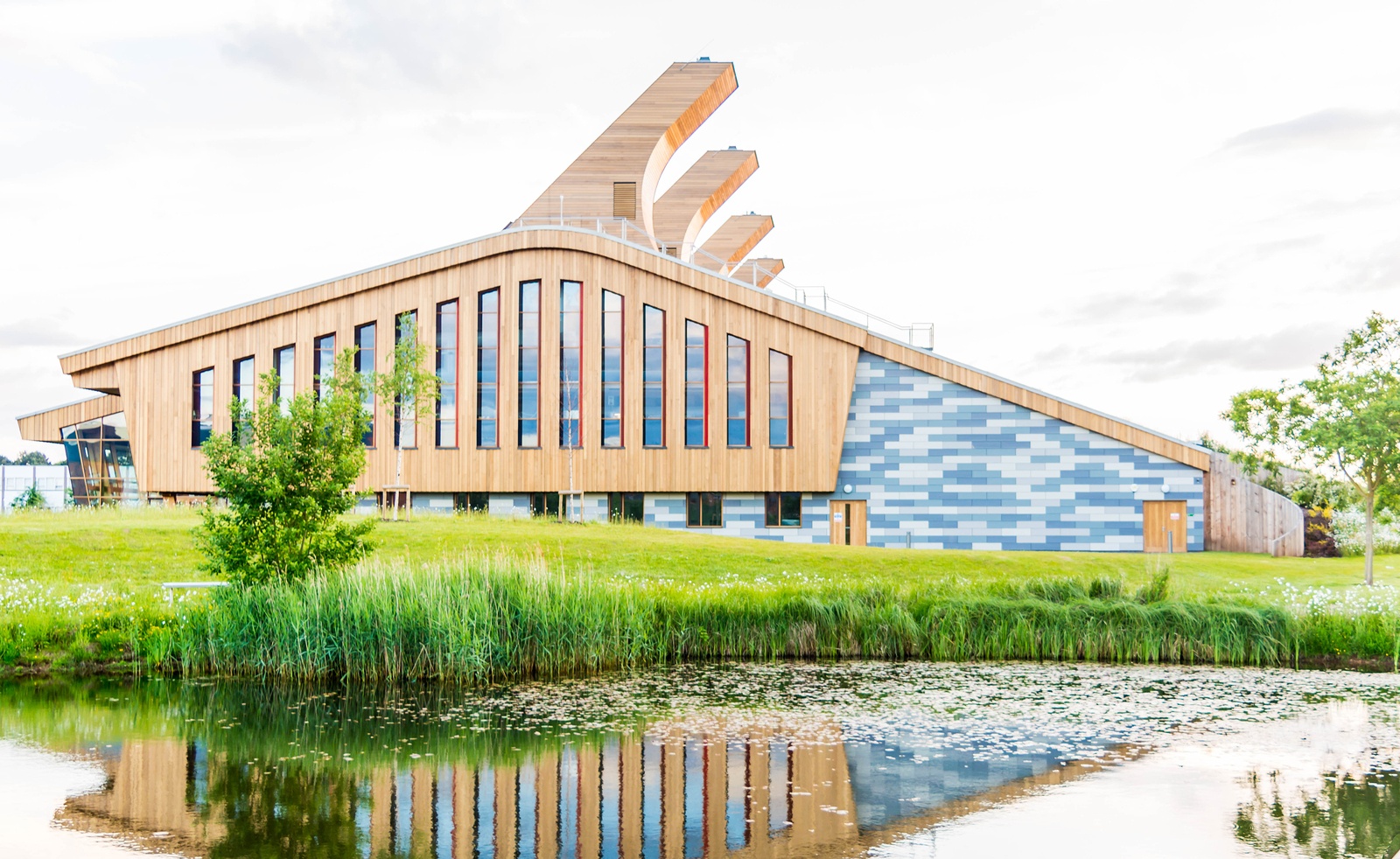 Once such example is the multi-award-winning carbon neutral laboratory for GSK at Nottingham University, which was initially destroyed by fire, and rebuilt again. Anthesis oversaw the early concept and design stage embodied carbon assessments2  for this remarkable building, which has negative WLC. It achieved this by more than paying back the 'carbon debt' accrued during construction through surplus generation of energy from renewables.
Though we did spend a significant amount of time debating the correct way to account and report whole life carbon emissions, we did have the early RICS, GLA and EN 15978 guidance and standards to help with some of the thornier methodological issues. The latest RICS Professional Statement certainly provides a more definitive reference source. However, what was more challenging with the GSK Lab was the overall process of carbon management throughout the design stage. In this respect, the RICS Professional Statement offers little guidance.
To address carbon management, we chose to develop our own 'carbon overlay', based on the Green Overlay to the RIBA Plan of Works developed by leading architect Bill Gething. This identifies a series of 'carbon checkpoints' throughout the design and build process to ensure that WLC is considered at every stage.
Whole Life Carbon Facts & Figures

GHG emissions associated with infrastucture represented 53% of the total carbon footprint for the UK in 2010 and are projected to represent 90% of the 2050 UK GHG reduction target.

Reducing embodied and operational carbon makes good business sense: average reductions in CapEx of 22% have been achieved by leading developers.

The relative significance of embodied carbon increases as grid electricity is decarbonised and operational emissions reduce.

You can reduce carbon at any point in the delivery process, but the opportunities are greater the earlier you start (e.g. up to 80% by building less or up to 50% by 'building clever').

If best practice is driven across the infrastructure sector up to 4 MtCO2e/year of embodied carbon and 20 MtCO2e/year of operational carbon could be saved by 2050 – a net benefit of up to £1.5 billion/year to the UK economy.
Source: The UK Government's Infrastructure Carbon Review 2013, ISBN 978-1-909790-44-5
Anthesis utilise a number of in-house and third party GHG emission factors to ensure the accurate and consistent measurement of WLC. An exciting development in GHG emission factors for construction materials is the widely anticipated launch of the newly updated Inventory of Carbon & Energy (ICE) database. The developer of this database, Craig Jones, recently told us, "The ICE database update will focus on the key construction materials. Since the data was last updated in 2011, there has been a sharp increase in the quality and quantity of embodied carbon footprint studies available in the public domain, which will provide valuable new data for the database. The ICE database will remain free and independent."
Anthesis experience in embodied carbon and WLC
Anthesis has a great deal of expertise in the assessment and management of both operational carbon and embodied carbon in buildings and other infrastructure, in addition to knowledge of new and novel sustainable materials. If you would like to learn more about our Carbon Overlay or our wider energy and buildings engineering services, please do get in touch using the form below.
---