For this installment in our "Greener Products" blog series, Doug Lockwood outlines considerations on whether to outsource, inspired by the Anthesis-authored chapter in the book "Greener Products: The Making and Marketing of Sustainable Brands by product sustainability expert Al Iannuzzi of Johnson&Johnson.
The Classic Question: Internal Vs External?
A ubiquitous challenge of business is whether to invest in developing internal capacity versus outsourcing business needs to a trusted third party, sometimes called engaging "managed services" or "business process outsourcing".
To aid in the decision-making for this daunting choice, Perry, et al. [1] identified two consideration factors: whether the work requires "proprietary or generic capabilities" and whether the work is "value-added or essential support work." The various combinations lead to a recommendation for either internal or external capacity. If the work is deemed value-added and proprietary, this model points to developing internal capacity, as opposed to work that is generic support work which can be outsourced effectively. 
Here we examine how business process outsourcing can be a cost-effective solution for managing composition data collection to support product sustainability and compliance.
[1] Perry, Stott, Responsibility Products. Smallwood. 1993
The "Why"
Successful product material compliance assurance requires an efficient supplier collaboration process for requesting and validating compliance data from the supply chain. This is easier said than done, as supply chains can be vast and dispersed, with each supplier needing to demonstrate compliance of every material and component of a product, data which changes with each product variation and new product launch. In addition to commonly requiring full material disclosure (FMD) from each supplier, companies are increasingly utilizing third-party services to verify compliance through laboratory analytical reports.
Clearly, the highly-involved process of data collection and verification presents a challenge in managing costs. Using the lens of Perry's decision model, material compliance data at the component and material level is not considered proprietary as long as adequate safeguards are in place to prevent access by unauthorized third parties to the data and product bills of material.  Since the supply chain data collection process is highly transactional and can be accelerated with software tools, it would be considered a prime candidate for business process outsourcing, lowering costs while freeing the business to focus on strategic rather than transactional work.
Key considerations
To ensure the most success in a managed service operation for product sustainability, businesses should take the following considerations into account:
Develop a Service Level Agreement specifying data quality requirements, efficiency benchmarks, and metrics reporting requirements.
Automate the data collection, validation and storage process using cloud-based or on-premise product environmental compliance software. Collected data can be migrated into other downstream systems as needed.
Utilize the IPC 1752A (Materials Declaration Management Standard) data exchange standard. Most suppliers can now provide data in this standardized format, making the entire process more efficient. Build supplier capacity through training and help desk support to promote their effective responses to data requests.
Utilize low-cost resources for transactional work to reduce costs and provide support across time zones.
Track metrics such as turn-around time, first time right, and completion of documentation for bills or materials or programs.
Customer reporting: If required, emphasize standardized customer reports and avoid developing custom formats if possible.
To Illustrate
The graph below illustrates process and efficiency improvements over time typically achieved using a metrics-driven approach:
Cost/Transaction:  the reduction of cost per transaction where a transaction is the collection of an FMD declaration from a supplier from start to finish
Turn Around Time (TAT):  the number of days on average between requesting FMD data from a supplier, and receiving and validating the data
First Time Right (FTR):  the percentage of received declarations are are error-free when received
As cost per transaction reduces, then the overall cost of the outsource can be reduced, or alternatively, volume of data collection can be increased. See below: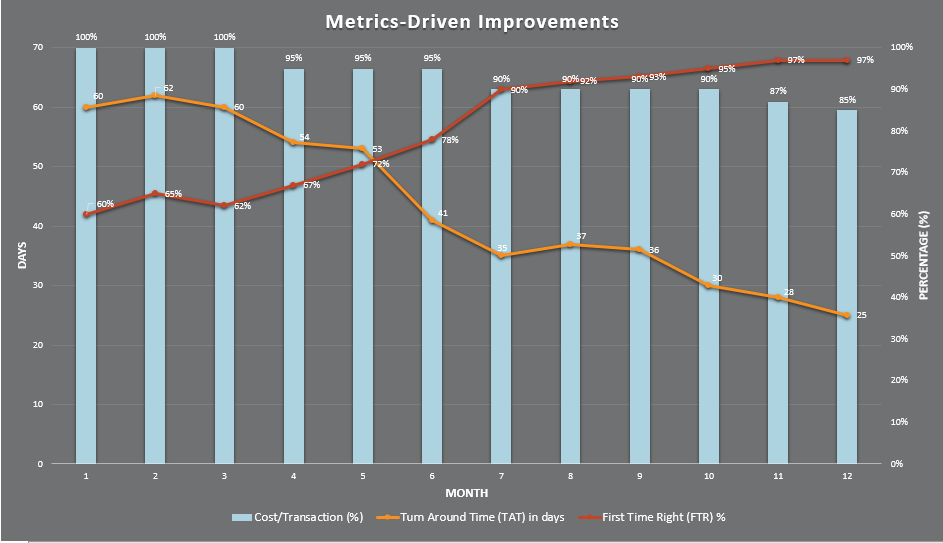 To Learn More
At Anthesis we have guided our clients through the process of weighing and identifying the areas of their business that would most benefit from external management by a third party provider and perhaps an off-shore provider.
Our own transactional team based in the Philippines capital of Manila specializes in providing product compliance as a managed service. Among the many advantages we offer clients, the Anthesis Compliance Suite (ACS) is a web-based system which serves as an efficient data collection tool to augment your enterprise resource planning and product lifecycle management-based platforms by providing efficient product compliance and conflict minerals supply chain data exchange. This is one example of our extensive offering in options for Business Process Outsourcing. 
Contact us
We'd love to hear from you
Anthesis has offices in the U.S., Canada, UK, France, the Netherlands, Belgium, South Africa, Ireland, Italy, Germany, Sweden, Spain, Portugal, Andorra, Finland, Colombia, Brazil, China, the Philippines and the Middle East.