Our latest blog series will discuss progress made in the landscape of product sustainability, sharing insights from an Anthesis-authored chapter in the new edition of the book by product sustainability expert Al Iannuzzi of Johnson&Johnson.
In Greener Products: The Making and Marketing of Sustainable Brands, Iannuzzi examines the opportunities for making products more sustainable and discusses the importance of effective strategies to communicate the greener product's value. In the book's second edition, Iannuzzi shares updates through the latest examples in the case for greener products, how to make them, and how to market them.
The Anthesis team was authored a chapter in this book entitled "Advancement and Applications of the Framework for Greener Products" which charts how certain companies are using the framework for greener products to navigate the evolving market expectations and emerging issues of today. This "Greener Products" blog series will showcase a number of these advancements and illustrate their application with case studies.
The Strategy Implementation Framework
In the first edition of Iannuzzi's "Greener Products", Jim Fava introduces a strategy implementation framework for business to define their environmental strategy, identify the tools and systems that the strategy requires, and to determine their approach to managing new emerging issues.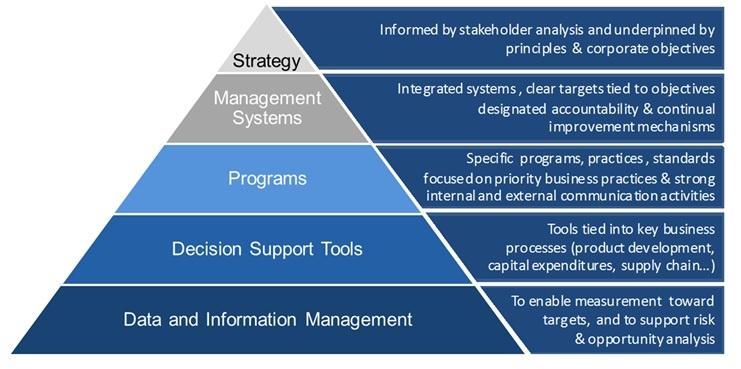 Iannuzzi, Al. "Figure 5.1." Greener Products: the Making and Marketing of Sustainable Brands, CRC Press, 2017.
The foundations of this framework are built on four options for a business's strategy: compliant, market driven, engaged, and shaping the future.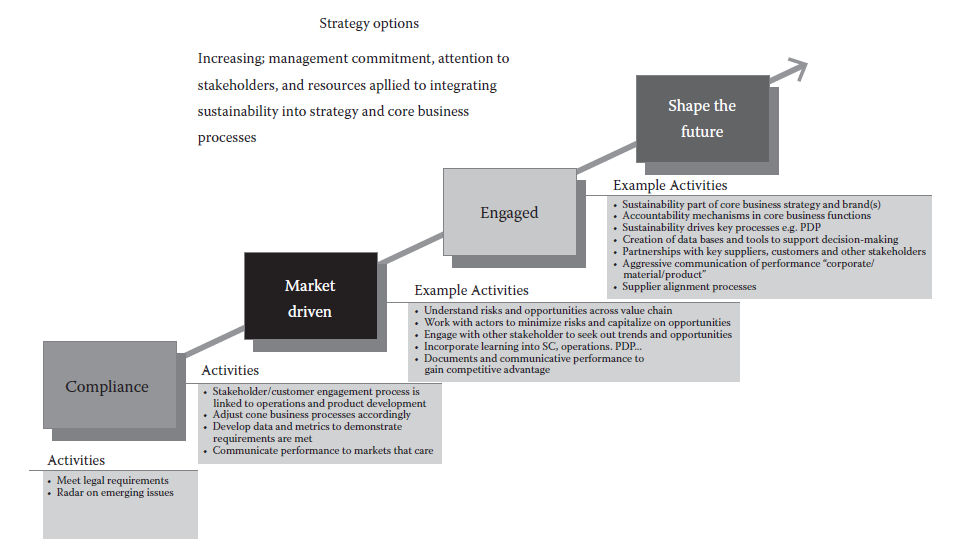 Iannuzzi, Al. "Figure 5.2." Greener Products: the Making and Marketing of Sustainable Brands, CRC Press, 2017
The strategy that best fits a particular business may evolve over time, but is influenced by external drivers (e.g., regulations and customer requirements), internal drivers (e.g., cost savings and environmental strategies), and internal capacity and resources.
In the first edition of "Greener Products", we named five core messages that capture why greener products are and will continue to be an increasingly important component of a company's portfolio.
The five core messages:
Message 1: Sustainability issues are managed over the entire life cycle.
Consider and determine the life-cycle stages for your product, the materials and material origins for your product, and the impacts at each of the life-cycle stages. The answers to these questions will allow you to assess your hot spots and identify opportunities for sustainability improvements.
Message 2: Each product category and material has its own footprint and sustainability characteristics.
For each material in a product, a corresponding value proposition should be defined. For example, a sustainability strategy for metal-based products would plan for recovery and reuse of the metal material to maximize its utility.
Message 3: Tools and approaches exist.
In the first edition of "Greener Products" published five years ago, we explored a variety of tools available and discussed how the appropriate tool can be selected to suit the questions and decisions at hand. Today, the toolbox has expanded and later in this series we will examine a few examples in more detail.
Message 4: A great tool isn't enough.
For a tool to deliver its full intended value, it needs an owner and a defined role in the business practice, among a number of conditions that must be met. We explore these necessary conditions to prevent a tool from becoming overlooked and forgotten.
Message 5: Existing infrastructure often hinders product sustainability implementation.
Implementing product sustainability measures requires breaking through silos that might exist within organizations, facilitating new forms of communication between departments and functional units that may not otherwise work together. For continual progress to be made, social and environmental concerns must be integrated into core business decision-making.
---
In the following installments in this series, we will discuss the advancements to the product sustainability framework that have emerged in the five years that have passed since the first edition of "Greener Products". Each area of advancement will be presented in a new blog post.
Those advancements are:
Product innovation tools:
We examine two examples of product innovation tools. First, Reckitt Benckiser combines quantitative life-cycle assessment (LCA) with qualitative "scorecarding" to result in a "Sustainable Innovation App."  Second, the appliance sector developed and applied a "hot-spots analysis (HSA)" framework to establish criteria which should be met in order for a product to be considered "greener."
Application of Hot-Spots Analysis:
Hot-Spots Analysis was developed as a key element of product sustainability standards developed by the appliance sector. HSA integrates results of Life Cycle Assessment, scientific data, as well as input from both technical experts and stakeholders to identify impacts in the use stage in order to guide decision-making.
Maturity Models:
After determining what goals to pursue towards product sustainability and why, a business is confronted with how to achieve those goals and make them an enduring component of business practice. Maturity models are being utilized by companies to define how to integrate their sustainability values and practices in the way that best aligns with that company's stage in their sustainability journey at that time.
Collaboration to advance performance and build capacity:
Collaboration with other companies can accelerate the performance of each company as well as the sector. We examine the case of The Electric Utility Industry Sustainability Supply Chain Alliance (Alliance) as an example of collaboration that has served to make their supply chain more sustainable.
Managed Services: Engaging the right resources to do the job:
Here we examine how companies have begun using managed or outsourced services to select sustainability practices. This provides clarity around how to identify whether a business has the right resources internally, and when it makes more sense to utilize external options.
Change management—embedding a product sustainability tool:
When new sustainability solutions are developed, they often face resistance because of the change to existing business practices that would be required for full adoption. We discuss change management success factors that are evident in the case study of Johnson & Johnson's successful Earthwards® approach.
The ultimate success factor—linking product sustainability and business value:
Finally, we reflect on compelling implications resulting from which strategy a company aligns with from the business value framework that will be shared with this blog installment, guiding how to increase revenue, enhance brand, reduce costs and mitigate risk. The ability to translate any sustainability plan into the language of the decision-makers has been improved through the use of the business value framework.
For each of these advancements to the original sustainability implementation framework, we provide examples from business case studies that illuminate best practices for culturally embedding sustainability. Stay tuned for the first installment of the series: "Product Innovation Tools", and refer to Greener Products: The Making and Marketing of Sustainable Brands by Al Iannuzzi for access to the full scope of discussion on product sustainability best practices and advancements.
Contact us
We'd love to hear from you
Anthesis has offices in the U.S., Canada, UK, France, the Netherlands, Belgium, South Africa, Ireland, Italy, Germany, Sweden, Spain, Portugal, Andorra, Finland, Colombia, Brazil, China, Australia, Switzerland, Singapore, the Philippines and the Middle East.