Anthesis would like to extend a huge thank you to the Product Sustainability Roundtable (PSRT) members for another great year in 2017! Here we will share some of the highlights.
Highlights of 2017:
4 Collaborative Meetings
| | |
| --- | --- |
| North American Spring Meeting in New Jersey | European Spring Meeting in Milan |
| | |
| April 5-6 hosted by Johnson & Johnson | May 3-4 hosted by Whirlpool |
| | |
 Companies who participated: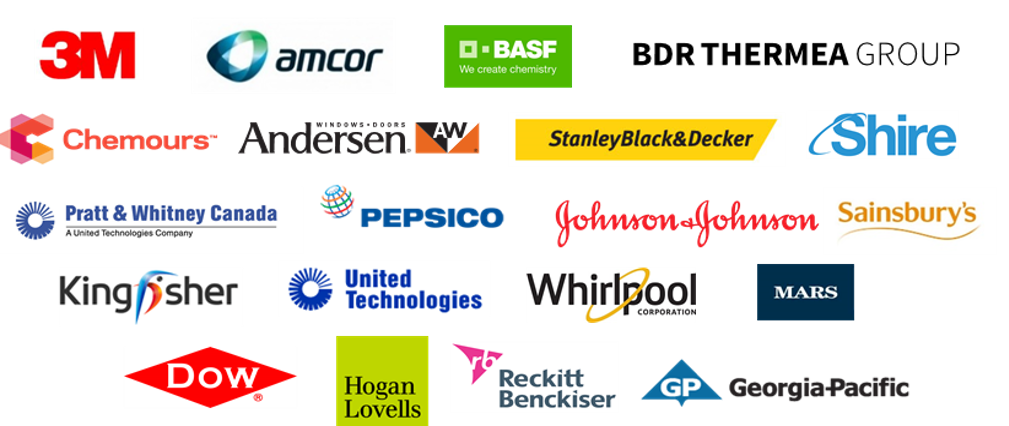 Example Sustainability Topics Tracked and Discussed:
•     Political Climate: from Globalization to Localization

•     Ambitious & Meaningful Target Setting: SBTs

•     Embedding Sustainability into Existing Functions

•     Product Impacts and Opportunities ('Hotspotting')

•     New Product Development and Improvement

•     Sustainability-Driven Breakthrough Innovation

•     Operationalizing Circular Economy

•     Disruptive Technology and Business Mode

•     Responsible and Sustainable Supply Chains

•     Sustainable Chemistry and Materials of Concern

•     Social Value and Impact

•     Climate Change and the Energy Transition

•     Sustainability Data, Analytics and Disclosure

•     Sustainable Buildings and Communities

•     Managing Customer Requests

•     GTM & Communications Strategies         
Leadership Framework: Building a 'Maturity Ladder'
Leadership Framework is a maturity model developed in 2016 to support increasing capability and integration of sustainability within organizations. In 2017, PSRT members benchmarked themselves against the Leadership Framework to identify improvement opportunities. Working groups then defined best practices in 3 prioritized areas (product hotspotting, new product development & improvement, and sustainability-driven breakthrough innovation), and benchmarked themselves against the practices.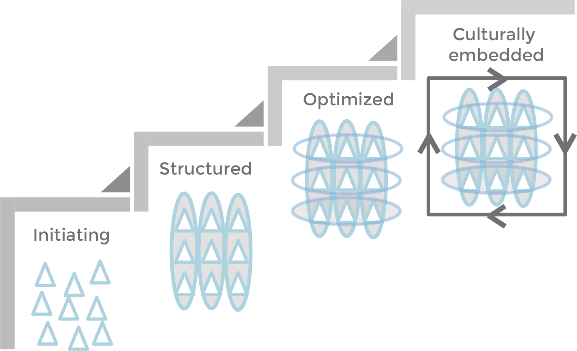 PSRT members found the Leadership Framework valuable for:
Engaging internal stakeholders to complete the self-assessment and hearing different perspectives;
Comparing the sustainability maturity of different business units or regions internally;
Identifying gaps and supporting improvement planning;
Making the business case to improve through benchmarking results; and
Providing a common framework and language to discuss and document best practice, case studies and resources.
Insights from our Recent Fall Meetings
Thank you to the sustainability experts who participated in our most recent North American and European fall meetings, and a special thank you to United Technologies Corporation (UTC) for hosting the North American meeting at the United Technologies Research Center (UTRC).
Below is a glimpse into some of the highlights from our two November meetings in Connecticut and London:
Members shared their priorities going into 2018 and discussed emerging sustainability trends at the top of their agendas, including:

Mainstreaming of sustainability by embedding tools and processes into existing functions and emphasizing business value,
Increasing value chain and cross-industry collaboration to collect and analyze data and find innovative solutions,
Setting meaningful product targets, and
Increasing focus on climate change, materials of concern, circular economy, and incorporation of social impacts and opportunities.

UTC presented on its leading 2020 corporate and product sustainability goals and initiatives, and provided members with an inside look into their best management practices, supplier gold program, and educational/outreach efforts including: UTC whitepapers on green aviation, "Food Foolish" book on food waste, NaturalLeader.com website with UTC success stories, and a toolkit for internal communications.
Paul Crewe, Head of Sustainability, Engineering, Energy & Environment at Sainsburys, shared his experiences implementing sustainability projects worth £750M that delivered some of the most successful ROI of any capital investment the business made. Paul was responsible for significant behavioural change programs internally and externally to drive sustainability improvement throughout the value chain.
A common challenge identified among members was how to "thaw the frozen middle" (i.e. when you have top level support and grass roots efforts, but middle decision-makers have other priorities). Members brainstormed 10 tips to tackle this problem, including:

Establish the business case and build it into your company strategy.
Shift top management from 'supporting' sustainability to 'advocating' for sustainability.
Work with middle managers to create a new default future by asking 'what type of organization do we want to be?'
Build objectives, incentives and recognition into middle managers' evaluations.
Ensure sustainability is considered along with other business objectives.
Make tools and processes easy for non-experts to consider sustainability end points.
Create 'cracks' in the frozen middle with success stories that get people talking.
Communicate! Internal communication is as important as decision-making.
Involve influential people that help spread a consistent message.
Make sure the talent you're recruiting aligns with your company values.
In 2018, PSRT is heading into its 25th year as a global group of leading companies with the vision to drive continuous improvement and connect product sustainability priorities to market value.  2018 will be an exciting year for PSRT as we plan to keep our focus on networking, sharing experiences, benchmarking and improvement planning through our signature meetings, while also expanding our offering to include more technology enablement and virtual gatherings between our face to face meetings.
Contact us
We'd love to hear from you
Anthesis has offices in the U.S., Canada, UK, France, the Netherlands, Belgium, South Africa, Ireland, Italy, Germany, Sweden, Spain, Portugal, Andorra, Finland, Colombia, Brazil, China, Australia, Switzerland, Singapore, the Philippines and the Middle East.