As of April 2019, all large UK registered companies are required to report on their energy consumption, greenhouse gas emissions and energy intensity within their annual report, according to a government response to the recent Streamlined Energy and Carbon Reporting consultation.
The Streamlined Energy and Carbon Reporting (SECR) scheme replaces the Carbon Reduction Commitment (CRC) scheme, simplifying reporting requirements and drawing in an additional 8,000 businesses into mandatory carbon reporting. SECR is expected to apply to all large companies registered in the UK, similar to the qualification criteria of the Energy Savings Opportunity Scheme (ESOS). This means that around 10,700 companies will be reporting energy and emissions in their annual reports for the first time.
The proposed SECR scheme will ensure that energy use and carbon emissions will be visible to company boards and investors, while an energy intensity metric (such as kWh per unit of production) will help put usage into context for organisations. Energy and carbon intensity metrics are already used by many Anthesis clients at a board level to understand productivity, efficiency and market risk.
The proposal for inclusion of energy and carbon information in annual reports is in line with The Financial Stability Board's Taskforce on Climate-related Financial Disclosures (TCFD). The SECR legislation will begin in parallel with the proposed increase in Climate Change Levy (CCL), ensuring that a financial incentive to reduce energy consumption remains.
Eligibility Criteria
The government has tried to keep eligibility in line with ESOS regulations for simplicity. However, organisations should be cautious as unlike ESOS, SECR eligibility does not necessarily require a company to meet the minimum requirement of 250 employees if they meet the two remaining eligibility criteria.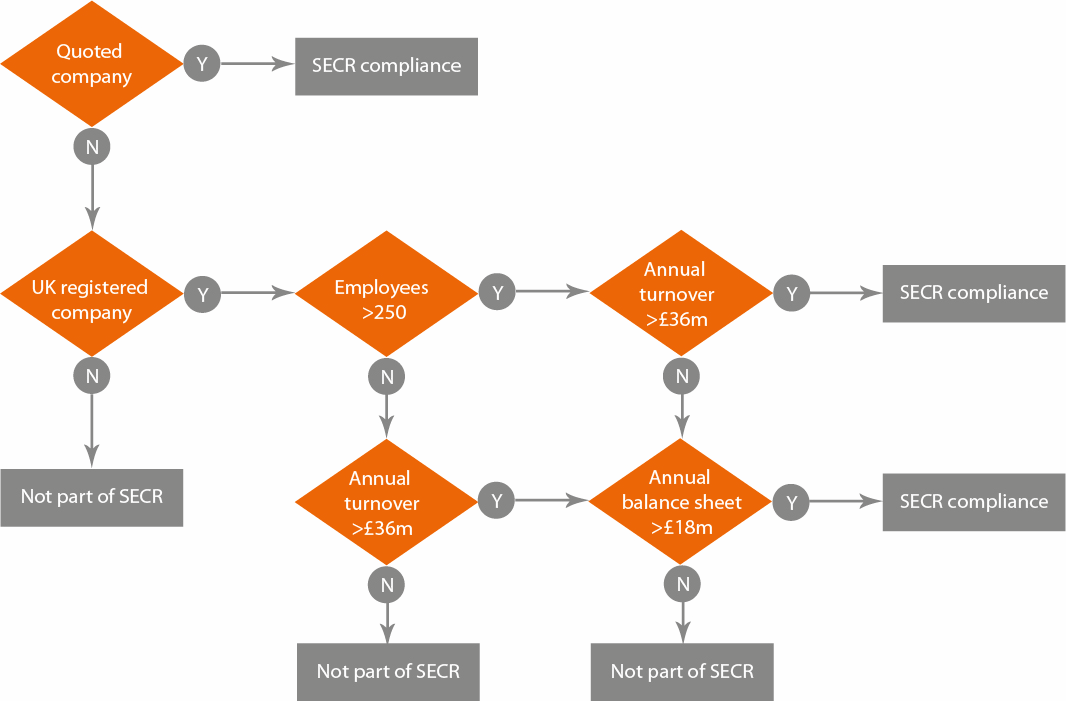 Companies Exempt from SECR
Very low energy users who can confirm they used 40,000kWh or less in the 12 month period are not required to disclose SECR information.
Unquoted companies apply for exemption where it is not practical to obtain some or all of the SECR information.
Where company directors believe that disclosing SECR information will be seriously prejudicial to the interests of the company.
What to do Next
Determine your risk to SECR compliance both now and in future years.
Inform those responsible of your annual report submission (to Companies House) of these changes.
Collect utility and transport data across the organisation. This might be through energy champions at each location, recording meter readings or collecting data from utility providers. Preferably, automated metering techniques will remove all effort from this process. Supplier invoices should be used to cross-reference site information rather than informing the submission.
Calculate scope one and two emissions (including transport) and scope three if you choose. Decide on an intensity metric – this will be a metric that influences energy use, such as production or floor area.
Report your global or UK energy use, emissions, intensity metric and commentary of energy efficiency measures as part of your annual report submission to Companies House.
Note: SECR is not yet a legislated framework, it is a proposition based on the government's response to the public consultation, published in July 2018.
If you have any questions about SECR, or the wider energy and carbon policy landscape and how it affects your business, please get in touch with Ben Lynch, Head of Energy Consulting, or use our fill out form below.