Anthesis Executive Director Lisa Grice shares insights and takeaways from the new National Climate Assessment Report, Volume II.
National Climate Assessment Report Details Substantial Impacts to U.S. Economy, Communities and Ecosystems
Volume II of the U.S. Fourth National Climate Assessment report (NCA4 Vol.II) released over the Thanksgiving holiday weekend gives key information and inspiration for companies looking to mitigate and manage near and long-term impacts of climate change. The report shows the US economy, communities, infrastructure, and ecosystems are already feeling the impact of climate change with further losses projected.  Challenges abound such as increased electricity costs, impacts on imports and exports, risks to water security, and disrupted agricultural productivity. One of the concise messages in the report: "the continued warming that is projected to occur without substantial and sustained reductions in global greenhouse gas emissions is expected to cause substantial net damage to the U.S. economy throughout this century". While the report is a critical read for a range of stakeholders, this blog focuses on how businesses can use the report to assess and respond to climate change threats and opportunities.
Using the Report to Identify and Manage Value at Risk
The report characterizes value at risk as well as pathways to greater resilience for a variety of topic areas. These projections and resilience concepts are useful to inform a range of critical business issues such as availability of natural resources, reliability of transportation infrastructure, and health risks to employees. The report highlights the importance of taking projected climate conditions into account in decisions about the location and design of buildings and infrastructure, engineering standards, insurance rates, property values, land-use plans, disaster response preparations, and cropland and forest management. The report catalogues impacts into the 16 topics of national interest shown in Table 1 and 10 geographic regions shown in Figure 1. Companies can explore the resilience tactics discussed to minimize risk to their operations, supply chains, customers, employees, and local communities and ecosystems.
Table 1: Topics of National Interest

Water
Built Environment, Urban Systems, and Cities
Energy Supply, Delivery, and Demand
Transportation
Land Cover and Land Use Change
Air Quality
Forests
Human Health
Ecosystems, Ecosystems Services, and Biodiversity
Tribes and Indigenous Peoples
Coastal Effects
Climate Effects on U.S. International Interests
Oceans and Marine Resources
Sector Interactions, Multiple Stressors, and Complex Systems
Agricultural and Rural Communities
Our Changing Climate
For the most useful detail on risk and resilience, refer to the full report chapters, rather than the "report in brief" chapters.  Valuable to enterprise risk management practices, the report clarifies both confidence in the validity of findings, the degree of likelihood of potential climate change impacts (both positive and negative), and the process and rationale the authors used in reaching their conclusions. Useful to decision makers, the report substantiates commentary by specifying both evidence and sources of uncertainty.
In addition to the projections provided in the report, the tools and data sets provided in Appendix 3 are helpful to knowledgeable users to derive more robust business-specific projections. Benefits, tradeoffs, and best practices for adaptation to climate change are presented both in a standalone chapter and integrated into individual regional and topical chapters.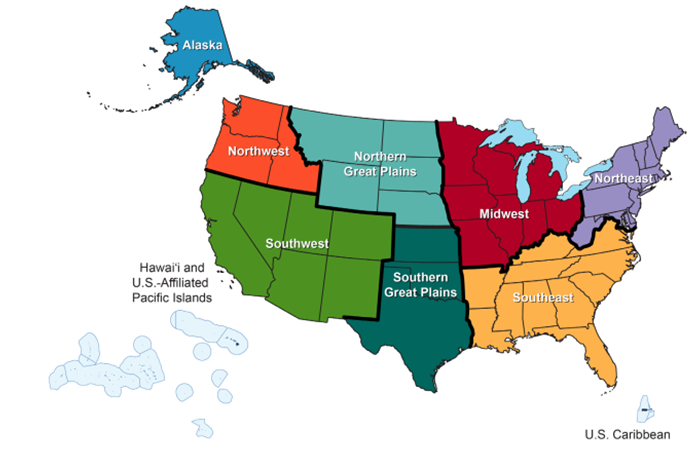 Figure 1: National Climate Assessment Regions in NCA4[1]
Opportunities to Mitigate Climate Change
In seeking measures to reduce the likelihood of climate change and consequent impacts, businesses will find important insights in the chapter on mitigation. Many businesses will find economic opportunities in efforts to reduce greenhouse gas (GHG) emissions, such as by offering products and services that reduce customer emissions, and/or by reducing operational fossil-based energy use along with related emissions and costs. With fossil fuel combustion accounting for 77% of the total U.S. GHG emissions, and most companies consuming energy from fossil fuel combustion, most businesses will find opportunities to contribute to climate change mitigation. The report provides quantification of econom­ic damages that can be avoided by reducing GHGs. For example, under a high emissions scenario, almost two billion labor hours and 150 billion dollars in wages are projected to be lost annually due to extreme heat impacting human health and labor productivity in the agricultural, construction, and other outdoor sectors. This loss drops by nearly one-half when using a lower emissions scenario associated with more technological innovation, lower population growth, and lower carbon intensity of the energy mix.
About the NCA4
The first volume of the NCA4, released earlier this year provides the detailed analysis of how climate change is affecting the physical earth system across the United States, while Volume II focuses on the consequent impacts and risks of climate change and potential adaptations. The report is the result of a collaborative effort across 13 federal agencies, engaging a range of technical experts and extensive public comment opportunities. Using detailed climate models, often at scale as small as four miles, tied to a range of economic and social indicators, the report illuminates climate change consequences for 16 topics of national interest, 10 U.S. geographic regions, and 2 chapters on response strategies (mitigation and adaptation).
Path Forward for Businesses
Anthesis recommends that as businesses ponder how to address the climate change impacts detailed by the report, that companies first map how present-day climate impacts the business. For example, where does the business depend on water availability? Where are workers vulnerable to the health effects of high ozone levels? To what extent is product or supply transportation dependent on roadways, rail or bridges subject to high tide flooding?  Contemplate the breadth of the business value chain (including suppliers, operations, distribution, and customers). Consider also how the company's products and services help to mitigate or adapt to climate change. Once the mapping exercise is completed, then use the NCA4 report and more robust business-specific modeling to evaluate and plan for the impact of climate change on the most susceptible aspects of the business.
For a general summary of report findings click here: https://nca2018.globalchange.gov/
To discuss this report further please use the form below, or contact Lisa Grice directly
[1] USGCRP, 2018: Impacts, Risks, and Adaptation in the United States: Fourth National Climate Assessment, Volume II: Report-in-Brief [Reidmiller, D.R., C.W. Avery, D.R. Easterling, K.E. Kunkel, K.L.M. Lewis, T.K. Maycock, and B.C. Stewart (eds.)]. U.S. Global Change Research Program, Washington, DC, USA, 186 pp.