A new government strategy has the potential to revitalize the UK's anaerobic digestion industry,  but it's far from a foregone conclusion, say Anthesis consultants Claudia Amos and Peter Scholes.
The UK's households, commercial premises and food manufacturers generate an estimated ten to twelve million tonnes of food waste each year. About a quarter of this is collected separately from other waste, amounting to around two-and-half to three million tonnes of food waste.  
The country's anaerobic digestion sector has the capacity to process around 4.4 million tonnes of waste each year – mainly food waste but also manures, agricultural waste and sewage sludge.  
With supply and demand in the sector therefore fairly well balanced, the fees that operators have been able to charge for processing food waste have ranged from zero to about £35 per tonne. Anaerobic digestion facilities in England have battled these unsustainable low gate fees by focusing on efficiency gains through process improvements, higher biogas content or lower contamination feedstock, as well as improved energy generation and energy sales. 
Growth in the amount of food waste available to process would help. But so far growth has been driven mainly by the need to reduce waste management costs in the manufacturing and retail sectors, with the amount of food waste collected from households and commercial premises growing very slowly. Expected growth in the anaerobic digestion market is correspondingly limited, as shown below. 
Future of the UK 
anaerobic digestion
 market without intervention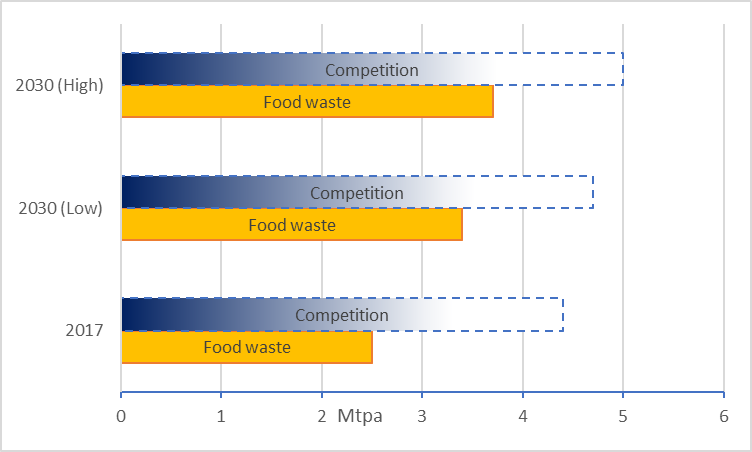 A new opportunity for anaerobic digestion?
Now, however, the government is considering making food waste collections compulsory for households and some businesses in England; a consultation is underway.
With only about half of local authorities in England currently collecting food waste separately from other waste, the government estimates that compulsory collections could generate an additional 1.35 million tonnes of food waste per year.  
This figure is in line with estimates produced by Anthesis for the National Infrastructure Commission in 2018. 
We estimated that by implementing food waste collection systems as seen in Europe's top performing nations, such as Wales and the Netherlands, at least 1.5 million tonnes of additional food waste could be segregated at modest growth rates.  
These increased volumes in response to the government's proposals suggest both a substantial investment opportunity for the anaerobic digestion sector in England and the potential for gate fees to recover from their downwards trend. 
So will the latest announcements in the Resources and Waste Strategy and the results of the subsequent consultation end the austerity in the English anaerobic digestion sector? 
Maybe, but probably not yet. Several hindrances stand in the way. 
The government estimates that compulsory food waste collections could generate an additional 1.35 million tonnes of food waste per year.  
Hindrances for growth in anaerobic digestion
Funding
The government is already committed to funding increased costs for food waste collection for local authorities, through measures based on cost savings in other waste areas. This is further supported by changes in fund sharing between waste collection and disposal authorities. However, if these savings are not ring-fenced, some local authorities might prefer to invest in other services rather than waste collection. 
M
ixed 
organic 
collections
Differing approaches to collecting food waste may mean that volumes do not reach their full potential. 
While just over half of local authorities in England collect food waste separately, around a quarter of these collect it mixed with garden waste to send for in-vessel composting. For cash strapped local authorities, such mixed organic collections may be the cheaper option. 
In addition, if authorities cannot charge for collecting green waste, the separate collection of both waste streams to meet recycling rates might be a step too far. 
The energy
 from waste
 argument
Some English local authorities have in the past argued that if their residual waste – including food waste – goes to an energy from waste plant, they already gain the energy from that food waste without having to collect it separately. Much research, particularly by the Welsh government, shows that in fact sending food waste for anaerobic digestion leads to lower carbon emissions than sending it for energy from waste. This did not stop one London borough using a similar argument to temporarily suspend their own food waste collections in the autumn of 2018.  
Food waste minimi
z
ation
The volume of food waste sent for anaerobic digestion may fall due to the impact of other government waste initiatives. That's because they aim to cut the amount of food waste produced by households and, more importantly, commercial premises, retailers and businesses.
Through the Courtauld Agreement, the UK government is seeking to reduce food and drink waste by 20%, potentially cutting 1.5 million tonnes according to government estimates. Retailers, manufacturers, farmers and local authorities are being asked to contribute through changes in food date labelling, improved resource efficiency and product changes. The government is also seeking powers through the Agriculture Bill to protect producers and cut wastage.
In addition, the Food Waste Reduction Fund, established in December 2017 and expanded with a £15 million pilot scheme in October 2018, targets an additional 100,000 tonnes of readily available prepared food for redistribution. A second round of funding worth £6 million was announced in May 2018. Furthermore, a £10 million collaboration fund is also being developed, open to groups of producers interested in pursuing joint business models, as the government eyes further sizable food waste reductions.
Re-definition of food waste
An updated food surplus and waste hierarchy featuring new compliance guidance and supporting tools aim to increase the redistribution of food residues, thereby reducing the volume of 'unavoidable' food waste to be recycled by anaerobic digestion or composting. The new hierarchy aims for food surplus to be used for human or animal consumption, or to be used in alternative 'bioeconomy' applications. 
End of renewable energy subsidies
Renewable energy incentives such as ROCs, FiTs and RHI have played an important part in the growth of the anaerobic digestion industry in the UK. The coming end of these support mechanisms means the sector may struggle to invest in new facilities, as it's questionable whether alternative support, such as for the production of road fuels, or any potential increase in gate fees, will be enough to fill the funding gap.
New facilities may also face increasing competition from the existing anaerobic digestion infrastructure, which may be refurbished in response to the reduced support for 'non-sustainable' energy crops and non-waste inputs. 
Growth possible, but not inevitable
So although a potential boost in household collection of segregated food waste volumes augers well for revitalizing the anaerobic digestion sector in England, and should in turn generate opportunities for further investment in plant extensions or new plant development, this is not a foregone conclusion.
National and local impacts are likely to influence decision making going forward.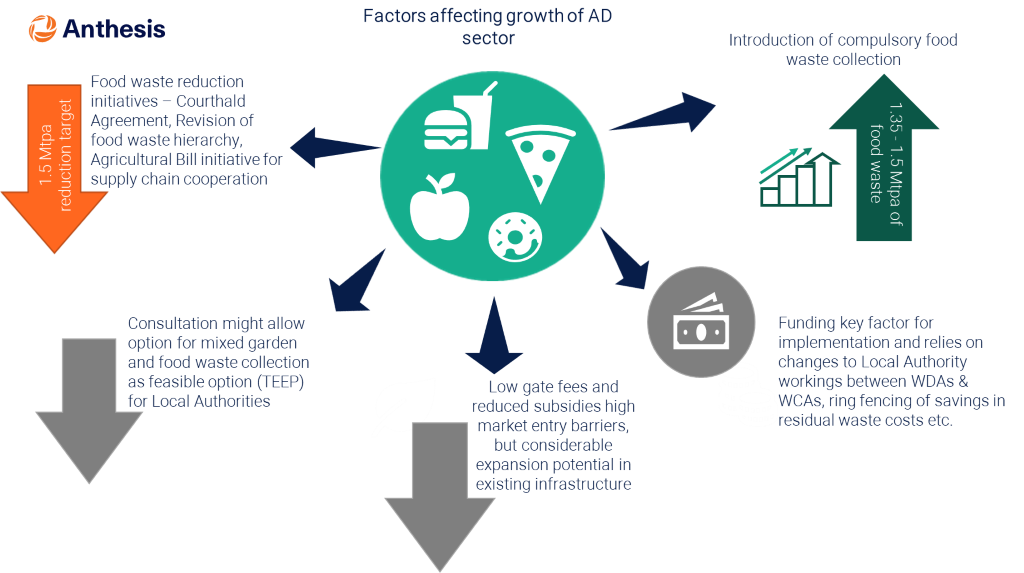 About the Authors
Claudia Amos
Claudia is a highly experienced waste professional who leads on waste infrastructure for our resource sustainability team, covering a range of international waste recycling and recovery, secondary material and renewable energy projects. 
Contact us
We'd love to hear from you
Anthesis has offices in the U.S., Canada, UK, France, the Netherlands, Belgium, South Africa, Ireland, Italy, Germany, Sweden, Spain, Portugal, Andorra, Finland, Colombia, Brazil, China, Australia, Switzerland, Singapore, the Philippines and the Middle East.