Factories that pay workers digitally are five times more likely to provide good working conditions, according to new research into the apparel, textile and footwear sectors.
Like millions of women working in garment factories in Asia, Lucky worried about receiving her monthly salary in cash. "I was concerned about walking out of the factory with that much money in my bag," she said. "I also share my house with other people, so I didn't know where to keep my money safe."
Recently, Lucky started receiving her salary on her mobile phone through BSR HERfinance Digital Wage program in Bangladesh. She can now use her mobile money account to buy items at the bazaar.
New data gathered from 3,000 factories in 58 countries.
Anthesis is proud to have supported the new research, led by the Better Than Cash Alliance and the Sustainable Apparel Coalition, which looks into the correlation between digital wages and social and labor conditions.
Our conclusions, drawn from anonymous responses in the Higg Facility Social and Labor Module, strongly indicate that factories paying their workers digitally tend to provide good social and labour practices. The summary findings, first published here, can be read in full below.
Recent data from the Higg Index from nearly 3,000 factories across 58 countries, representing 85 brands and retailer supply chains, reveals that paying workers digitally correlates positively with better working conditions.Across the globe, factories that pay workers digitally are five times more likely to follow exemplary social and labor practices than those that pay with cash or checks. This includes offering wages that are equitable to the cost of living or providing bonuses when the company has a profitable year.
The study shows that 67 per cent of the factories pay workers digitally through bank accounts. The rest still use cash or check distribution — which is not safe for workers or businesses.
There are also significant discrepancies between the countries. For example, 95% of factories in India pay workers digitally compared to 25% in Bangladesh. The differences between the countries can be explained by the financial inclusion progress and development of digital payments across markets.
Sixty-nine percent of adults worldwide had an account with a bank or mobile services provider, according to latest World Bank's global financial inclusion database. However, 200 million still receive private sector wages in cash in developing markets. Seven out of the 13 countries analyzed in the study had higher digitization in the apparel sector than their country average access to bank or mobile money accounts, showing that the garment industry is a driver to accessing financial services.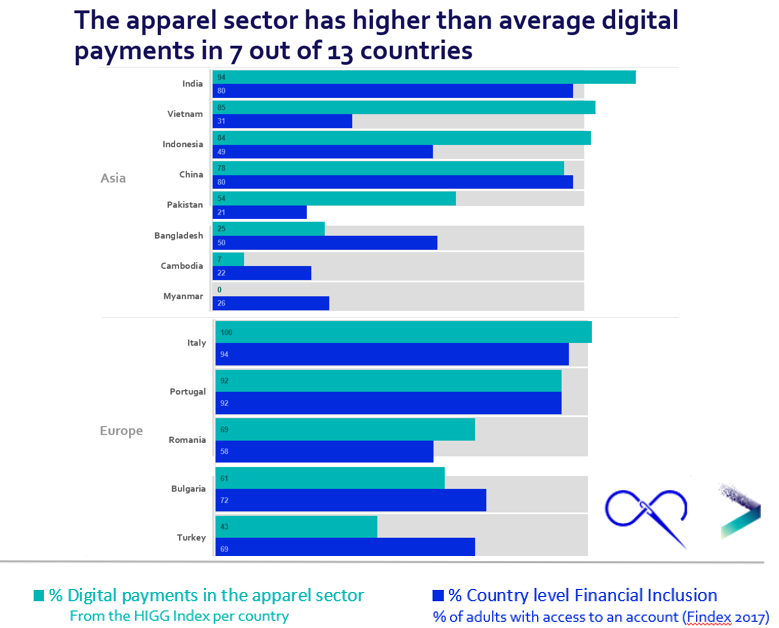 For global brands, payments in cash means less transparency to ensure workers are paid the right amount and on time. Factories bear the risks and inefficiencies of transporting, securing, and disbursing millions of dollars in bank notes to workers on payday.
Leading companies are starting to recognize the positive economic and social impact these efforts can have on the lives of factory workers. Workers gain life skills, independence, and confidence. In 2017, H&M committed to paying its 1.6 million global factory workers digitally, as a way to improve workers' lives and scale the company's sustainability efforts. Similarly, earlier this year, Gap Inc. pledged to pay garment workers across its 800 global factories digitally by 2020 having already helped digitise salaries for 95% of its factory workers in India.
To support the well-being of garment workers and help factories improve their conditions, the Sustainable Apparel Coalition and the Better Than Cash Alliance encourage more brands, suppliers, and factories to leverage the updated Higg Facility Social & Labor module to assess their performance and join the global movement shifting away from cash, keeping track of their performance to increase efficiency and transparency in their supply chains.
What is the Higg Index?
The Higg Index, developed by the Sustainable Apparel Coalition, is a suite of tools that enables brands, retailers, and facilities of all sizes to accurately measure and score a company or product's sustainability performance. The Higg Index delivers a holistic overview that empowers businesses to make meaningful improvements that protect the well-being of factory workers, local communities, and the environment. For this study, global sustainability consultancy Anthesis Group analyzed results from the Higg Facility Social & Labor Module, which assesses working conditions in the global value chain. To date, the Higg module offers the most comprehensive data set on value chain wages.
Take a look at the presentation detailing the efforts of the Sustainable Apparel Coalition and Better Than Cash Alliance.
---
With thanks to:
Marjolaine Chaintreau – the Private Sector Digital Innovation Lead at the Better Than Cash Alliance.
Amina Razvi – Vice President, Membership at the Sustainable Apparel Coalition.