2017 is still new and shiny – even if the rest of the year looks a little uncertain! After a turbulent 2016, maybe 2017 is ripe for disruption, innovation and renewal. Handily, Future Agenda, the world's largest open foresight programme, spent much of 2016 in conversation with 5000 experts and leaders in 150 workshops around the world discussing and distilling what the big issues will be over the next 10 years. Many of those that you'd expect turned up on the roster and you can see them at www.futureagenda.org.
What did surprise me was their further analysis of the data and discussions to arrive at the top 10 opportunity areas for innovation. As a seasoned sustainability professional, it has been my job to look for and implement change but I've usually felt to be a bit of a weirdo outside my professional circles and my voice has often felt rather small. Imagine my surprise and relief then, when, of the top 10 opportunities for innovation, at least 7 are directly relevant to sustainability. You can see them all here. They include:
Reducing air pollution
Providing basic sanitation
Minimising food waste
The true value of clean water
Investing in nature's capital
The criteria for inclusion was where issues were in the sweetspot of:
Global or multiregional impact;
Still requiring significant progress; and
The potential to create new value.
In other words – 'doing well by doing good at scale'.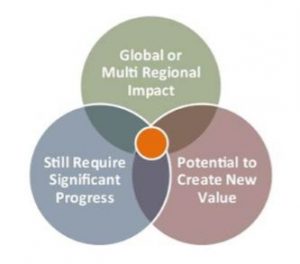 Diagram sourced from Future Agenda
It's also great that these opportunity areas for innovation align very well with the UN's Sustainable Development Goals (SDGs) – 7 of which are directly relevant to the Future Agenda findings, which is very heartening. The SDGs are gradually being adopted by business with the support of the like of Unilever's CEO Paul Polman. Thinking of the SDGs as an opportunity to 'do well by doing good' can only hasten their uptake and the associated transition to a sustainable world, as well as futureproofing business.
If you want to find out which of the big issues of the next 10 years will impact your business, contact us using the form below
Contact us
We'd love to hear from you
Anthesis has offices in the U.S., Canada, UK, France, the Netherlands, Belgium, South Africa, Ireland, Italy, Germany, Sweden, Spain, Portugal, Andorra, Finland, Colombia, Brazil, China, Australia, Switzerland, Singapore, the Philippines and the Middle East.