Over the last 15 years, the amount of material exported to China for treatment and reprocessing has grown dramatically. To the point, now, where most of the western world is reliant on the Chinese markets to handle elements of its low-quality recyclable waste streams. Until recently this hasn't been a problem, however, China is currently implementing its new Chinese National Sword campaign, which has the potential to radically alter the global market.
The Chinese National Sword campaign incorporates a decision to clamp down on material imports in an effort to reduce "foreign garbage" to help protect China's environment and improve people's health. Not only this, but it also aims to increase domestic recycling capacity to 350m tonnes by 2020, significantly helping China becoming more circular in its economy.
Concern has been raised by many exporters, regarding the effect that the reduction of "foreign garbage" making its way into China will have on the current waste export arrangements. The main focus of the exporters and the western businesses and municipalities that they represent is on where the new markets for the 45m tonnes of waste that is currently imported into China will arise.
How the Global Waste Market Will Have to Adapt
By raising the bar, China is effectively pressuring the rest of the world to up its game too, forcing other countries to decrease their reliance on China for a cheap and easy route to meet EU targets for recycling materials. And this isn't necessarily a bad thing.
Since Operation Green Fence[1] was announced in 2013, the quantity of imports into China has already shown trends of decreasing. And interestingly enough, other developing countries are appearing to be taking up some of the slack on material streams such as plastics (Figure 1A).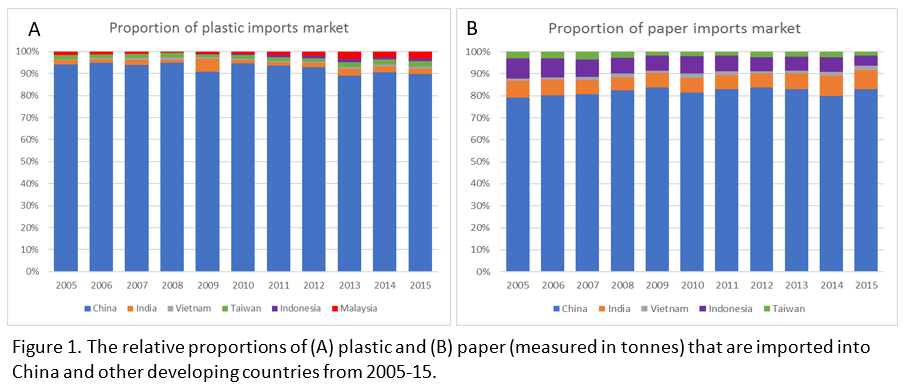 However, the Chinese National Sword campaign will ban 24 materials outright and decrease the tolerance threshold of others to a value that is yet to be determined, but expected to be between 0.3 and 1%, with very little transitional period.
At the start of May 2018, China announced a month-long ban on American exports of waste and recovered paper due to quality issues. This could have knock-on consequences for other countries, including the UK, who are contemplating whether or not to sort material to meet the Chinese quality standards.
Potential Impacts of the National Sword Quality Clampdown
The short-term impact of this immediate block on materials will likely cause a dramatic increase in demand for existing alternative treatment solutions, such as incineration and landfill due to a decrease in available global capacity for recycling.
In the UK, Energy from Waste (EfW) plants are nearing capacity as it is, and export markets outside of China will probably be flooded very quickly by other exporters. Currently the EU exports 87% of its plastic to China (as of 2012), so in the short term, it's inevitable the rest of the global market will become saturated rapidly.
The logjam of material will unavoidably impact waste costs for industry, impacting every stakeholder, from large international organisations down to local authorities and small local businesses. This will be as a result of reduced demand from waste management companies' due to their lessened ability to shift material that was once destined for China. The result, a likely increased bill from your waste provider.
Improvements to UK materials treatment and reprocessing infrastructure are therefore going to become vital over the next year or so. In the meantime, it's paramount that local authorities and major waste management companies increase the quality of material streams going into Materials Recovery Facilities (MRFs). The increased amount of secondary commodities that will subsequently be produced will have a significantly wider market and increased demand from manufacturers.
This potential development will not only help avoid sending materials to incineration and landfill but will provide a greater prospect for investment into recycling/recovery strategies that enable us to progress towards a more circular economy.
Should you wish to discuss how the Chinese National Sword may affect your business in more detail or you wish to explore actions your business could take to help reduce the impact of the material ban, please contact Debbie using the form below: