It feels like the UK is in the midst of an unparalleled environmental shift. A shift that is gathering momentum and as it travels down the pathway towards positive change. We're seeing more environmental consultations, more calls for evidence and potential policies in play than at any other time in recent history.
The highly anticipated Resources and Waste Strategy (RWS), launched on 18th December 2018, is the latest environmentally-focussed announcement from central UK government. The RWS aims to put the UK at the forefront of positive environmental change. For industry and business, it presents growth opportunity and a chance for organisations to either get in front or fall behind. For individuals, it's an opportunity to look after our natural environment and to secure a better, healthier future.
The RWS announcement comes at a time of historic change on a global front. This month we witnessed the signing of the Katowice Climate Package during the COP24 meeting in Poland – a major development in the mission to avert catastrophic climate change. Almost 200 countries signed the pact aimed at instigating action towards the goals set forth in the 2015 Paris Agreement. It sets forward and strong and encouraging message that government, business and consumers are aligned.
What Is the Resource and Waste Strategy?
The Resources and Waste Strategy (RWS) has been developed by Defra with the aim of tackling long-standing issues, such as waste crime, inconsistent recycling collection systems, plastic pollution and packaging. A main objective is to maximise the value we get from our resources while minimising the negative impacts of waste materials, in doing so creating a more circular economy.
Earlier this year the UK government announced its 25 Year Environmental Plan to deliver a 'Green Brexit' and set the tone towards protecting and improving the environment by showing leadership on conservation, climate change, land use and other areas. It also set out some specific targets to address the UK's resources and waste issues, including:
Eliminating avoidable waste of all kinds by 2050
Phasing out all avoidable plastic waste by 2030
Prevent food waste going to landfill by 2030
New targets for waste and recycling
Reforming the Packaging Waste Recovery Note (PRN) system
The RWS sets out how Defra aims to achieve these targets as well as establishing other policy measures, targets and metrics. The purpose of these policies is to create a more sustainable model of future production and consumption, which is aligned with, if not goes beyond, the EU's Circular Economy Package ambitions. It's important to note that there are more consultations to follow, including consultations on a Deposit Return Scheme and extender producer responsibility for packaging expected in early January 2019.
Why Is the RWS Strategy Important?
The new strategy is a great opportunity for the UK to make an environmental step change and journey towards a circular economy. As Environment minister Michael Gove said, "We can move away from being a throwaway society to one that looks at waste as a valuable resource."
The latest government waste data for England shows recycling rates are stagnating, with household recycling settled around the 44% mark for the last seven years – such non-progress with recycling has been described as being in the 'doldrums' by senior waste industry figures. It's hoped the RWS will provide a much needed boost to the country's recycling rates, with a further aim of seeing less of the UK's waste being exported abroad.
The policy measures and targets outlined in the RWS will have far-reaching impacts for the materials supply chain, including producers, local authorities, the waste industry, material reprocessors and UK consumers.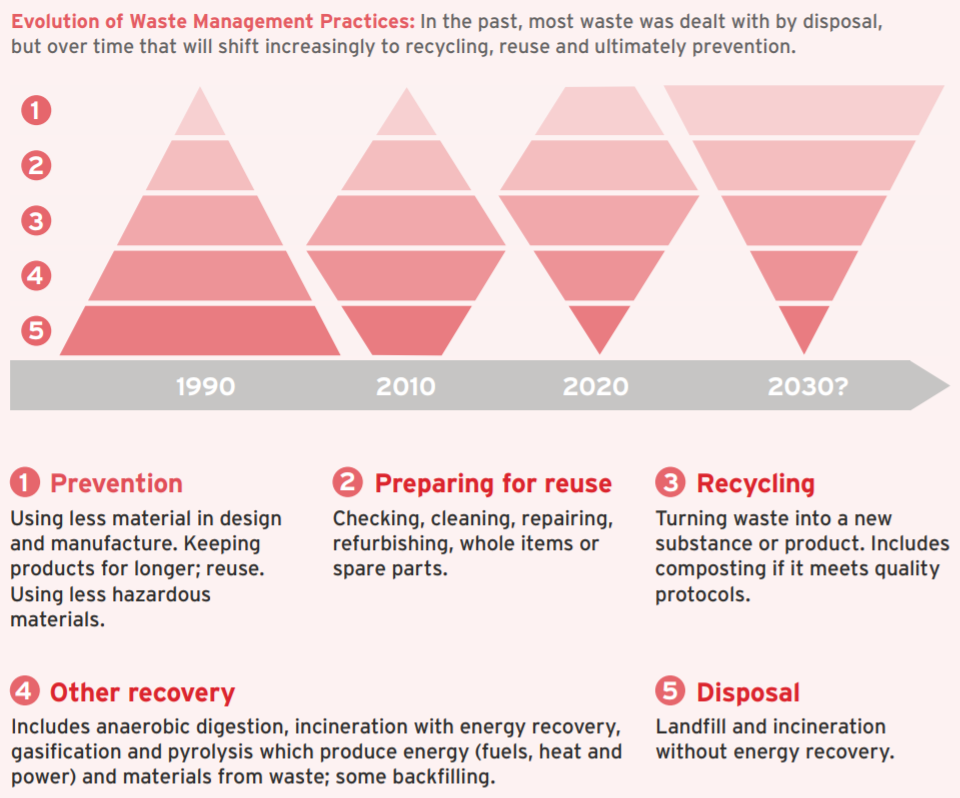 What Are the Key Takeaways?
The strategy wants to deal with waste and resources at the source through measures involving sustainable production, designing for recyclability, extended producer responsibility reforms and clear, consistent labelling to help consumers take more considered actions. As expected, the priority waste streams in the RWS are plastics and food waste.
Below is an overview of the key points of the strategy.
Sustainable production
Ensure that producers pay the full net costs of managing packaging waste at end of life.
Stimulate demand for recycled plastic by introducing a tax on plastic packaging with less than 30% recycled plastic.
Set minimum requirements through eco-design to encourage resource efficient product design.
Manage chemicals sustainably and address barriers to reuse and recycling posed by their use, through a Chemicals Strategy.
Helping consumers take more considered actions
Provide consumers with better information on the sustainability of their purchases through Ecolabels and incentivise to purchase sustainably.
Ban plastic products where there is a clear case for it and alternatives exist.
Address barriers to reuse and support consumer campaigns to promote reusable alternatives
Encourage appropriate disposal of used products through a Deposit Return Scheme, subject to consultation.
Resource recovery and waste management
Improve recycling rates by ensuring a consistent set of dry recyclable materials is collected from all households and businesses. The core set of materials is subject to consultation.
A separate weekly food waste collection for every household and appropriate businesses, subject to consultation.
Drive greater efficiency of Energy from Waste (EfW) plants and helping industry make the right decisions over infrastructure investment.
Address information barriers to the use of secondary materials so that useful material can flow to necessary businesses.
Tackling waste crime
Improve the transport, management and description of waste along the resource chain. Also ensure that waste is only dealt with by properly regulated companies.
Mandate the digital recording of waste movements to ensure it isn't illegal dumped, descriptions changed or transferred. Subject to consultation.
Toughen penalties for waste criminals.
Increase awareness of waste regulations and publicise positive work of enforcement bodies as they tackle waste crime.
Cutting down on food waste
More effectively redistribute food to those who need it most before it can go to waste.
Consult on annual reporting of food surplus and waste by food businesses.
Consult on legal powers to introduce food waste targets and surplus food redistribution obligations.
Support cross sector collaboration through the Courtauld 2025 agreement.
Global Britain: international leadership
Promote the goals of our Resources and Waste Strategy internationally.
Drive international political commitments through the ground-breaking Commonwealth Clean Oceans Alliance.
Support developing nations to tackle pollution and reduce plastic waste, including through UK aid.
Improve the quality of plastics exported for recycling through the Basel and Stockholm Conventions.
Research and innovation
Support further investment and innovation in resource efficiency, working with UK Research and Innovation (UKRI).
Launch a call for evidence on the development of standards for bio-based and biodegradable plastics.
Support further investment in resource efficient technologies, including through the Industrial Strategy Challenge Fund.
Encourage innovative waste treatment technologies that create transport fuels through the Renewable Transport Fuels Obligation (RTFO).
Measuring progress: data, monitoring and evaluation
Develop a shared vision and bold new approach to data on resources and waste.
Move away from weight-based towards impact-based targets and reporting, focusing initially on carbon and natural capital accounting.
Maintain the coverage and quality of local authority-collected waste and improve data collection to meet future needs.
Work with tech firms to develop innovative digital solutions for tracking waste, and consult on options to mandate the digital recording of waste movement data.
What Are the Next Steps for Businesses?
If you want to understand the impact of this strategy on your business, we have a team of experts that can talk to all key areas covered in the strategy. These include extended producer responsibility, deposit return schemes, food waste, plastics, the chemical agenda, monitoring and performance matrix, waste infrastructure and consumer behaviour changes.
We have already supported clients develop evidence-based responses to government consultations on deposit return schemes and the management of single-use plastics. Our team of experts have an international view, that can help inform the debate in the UK, understand the complexities and inter-connectivity of the issues covered in the strategy. We also have economic and financial modellers to assess the financial implications of the strategy's initiatives.
Please contact Beth Simpson on the form below to discuss any of the topics above in further detail. 
Contact us
We'd love to hear from you
Anthesis has offices in the U.S., Canada, UK, France, the Netherlands, Belgium, South Africa, Ireland, Italy, Germany, Sweden, Spain, Portugal, Andorra, Finland, Colombia, Brazil, China, Australia, Switzerland, Singapore, the Philippines and the Middle East.