The National Infrastructure Commission has published its first ever National Infrastructure Assessment (10th July 2018) that sets out important infrastructure requirements in the UK over the next 30 years.
The report identifies key infrastructure targets with improvements to be made to: nationwide digital connectivity, revolutionising road and city transport, reducing flooding risk, decarbonising energy generation and how the UK deals with waste.
Core proposals of the infrastructure report
Through a long-term, cross-sectoral approach, the report gives a number of recommendations to equip the UK with the infrastructure it most needs. Set out on the pathway for the UK's economic infrastructure, is recommendations for:
Nationwide full fibre broadband by 2033
Half of the UK's power provided by renewables by 2030
Three quarters of plastic packaging recycled by 2030
£43 billion of stable long-term transport funding for regional cities
Preparing for 100 per cent electric vehicle sales by 2030
Ensuring resilience to extreme drought through additional supply and demand reduction
A national standard of flood resilience for all communities by 2050.
Waste and resource sector impact
This crucial and overarching National Infrastructure Assessment impacts the UK waste and resources sectors. It sets out a range of recommendations proposing how we use our resources in the future.
The report highlights that low cost, low carbon energy and waste systems are now possible, and should be delivered. The Commission's remit on waste covers England only, where waste generation is expected to increase as the population grows. Creating a more circular economy, where materials are re-used and kept in use for longer, could save local authorities a total of £6.2bn between 2020 and 2050.
Currently 'black bag' waste and other non-recyclable waste streams are incinerated to produce electricity and heat. However, under the banner of "Incinerate Less, Recycle More" the report highlights the carbon benefits of reducing the amount of waste sent to Energy from Waste plants by recycling more plastic and converting more food waste into biogas.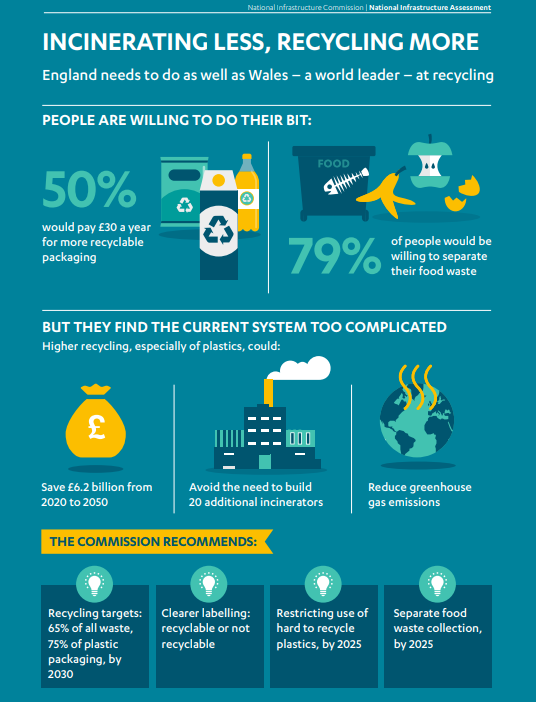 The report proposes two main ways to achieve a low cost, low carbon waste system:
Separating food waste
As an alternative to incineration, food waste can be used to produce biogas and biofuels via anaerobic digestion at a fraction of the cost. The Commission recommends that government should establish separate food waste collection for households and businesses (to enable production of biogas) by 2025.
Wales is held up as a best practice example with the third highest municipal recycling rate in the world thanks to its 'towards zero waste' strategy.
Reducing plastic waste
The UK's plastic recycling rate is just 30%. This is due to both product design, where the end-life hasn't been taken into account, and household behaviour, with many people finding the current recycling messages complex and confusing.
Plastic waste can be tackled through reducing unnecessary packaging, other single-use plastics and tacking PVC/PET contamination.
To tackle these issues, the commission recommends that government should establish:
Clear two symbol labelling (recyclable or not recyclable) across the UK by 2022.
A consistent national standard of recycling for households and businesses by 2025.
Restrictions on the use of hard-to-recycle plastic packaging (PVC and polystyrene) by 2025.
Incentives to reduce packaging and for product design that is more easily recyclable by 2022.
A common data reporting framework for businesses handling commercial and industrial waste by the end of 2019, ideally through voluntary reporting but if necessary by legislation.
Anthesis role in the waste infrastructure analysis report
The development of these recommendations was informed by an extensive 219-page review and options modelling study delivered by the Anthesis Group for the Commission, entitled "Waste Infrastructure Analysis for England".
This study was delivered to inform the development of a best value waste management infrastructure investment strategy for England to 2050. This was completed by weighing the costs of different waste collection, treatment and disposal options against their economic and environmental benefits. Crucial to the main report include our modelled scenarios on food waste segregation, and plastic waste segregation.
Find the full reports: